One thing I paid a lot of attention to while walking the floor at the Outdoor Retailer Summer Market Show in Salt Lake City in July was how booth staff interacted with attendees.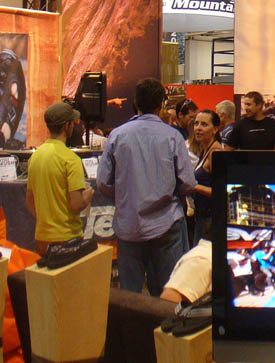 It's the single most important action item that determines the success or failure of a tradeshow exhibit.
You can have the best-looking exhibit in the world – or the worst – but people are not there to see your exhibit. They're there to engage with the people behind the exhibit.
Based on what I saw a ORSM09 some folks are doing an awesome job – and some have a long way to go. Let's take a look…
I mentioned Keen Shoes in my last post but it's worth detailing a bit more how they responded to visitors. As you first approach the welcome counter (which you had to, because the rest of the booth – except for a small entrance – was walled off) somebody smiled and greeted you and asked if they could help you. Note: they didn't try and sell you anything or give you anything you hadn't asked for.
Next, Keen had a funky-looking spinner that let you try your hand at winning some prize, including a pair of shoes.
Third, you were invited to enter a contest which took a minute or two: members of the contest crew took your picture while you filled out a small form with your personal information. Once the digital picture was promptly printed out, it was attached to the back of the form and pinned to a giant corkboard. You were then given a raffle ticket and told specifically when you were needed to be in the booth for your chance to win $1500 towards your 'Hybrid-Life' adventure.
Whether or not you entered the contest, twirled the spinner or engaged with the folks at the greeting counter, you would see a lot of activity as you went by the booth.
The activity drew a crowd. And as we all know, at a tradeshow, a crowd draws a crowd.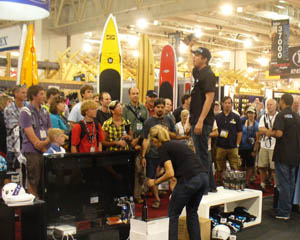 I saw many similar instances of 'drawing a crowd' at the show. Whether it was the antics of GoPro Camera, or the contest at Aquapac or any number of other attendee engagements throughout the show, lots of exhibitors were doing the things they needed to do to get people into their booth.
What about the smaller booths in the smaller ballrooms? Same thing there, only on a smaller scale. The booths that had a lot of people in their 'space' were doing things to engage attendees.
As for the booths that were empty…. Why were they empty?
Lots of small reasons to my eye: the person in the booth was ignoring passersby while pounding away at a laptop keyboard. Or they were eating (a big turn-off to visitors). Or they were on a cell phone. Or they ignored visitors completely, even when they walked up into the booth (yes, it really happens!).
It appears to boil down to having uninterested, unmotivated or untrained booth staff. Now, even if it's the CEO of the company manning the booth, if he's acting as if your presence isn't important, it will subtly communicate to you: 'please don't stop at my booth.'
Are you communicating that subtle message?
Most people I engaged with told me (after I asked) that they were having a good show. The ones that said the show was not good for them usually had a serious deficiency in 'attendee engagement.' Either that or their booth was buried at the back of a hall and the bulk of the foot traffic just was not reaching them.
Now I realize that over long shows – especially a four day show that's open a total of 33 hours – it is extremely difficult to stand in a booth and be "ON" the whole time. When you have a large staff, it helps to have booth shifts that rotate through and keep lively and fresh faces ready to greet people. In a smaller booth where the time is split between two or three people, maintaining a positive attitude for every visitor is extremely difficult.
Keep in mind, however, the single visitor that you're too tired to greet might be the one attendee who can open doors for your business and help you land a big deal.
Wouldn't you hate to let that one visitor go by simply because you're pounding away on a keyboard and are too engrossed with an e-mail to engage with a real live person?