Tradeshow marketing is about the sale. You may take a meandering path to get there, but at the end that's you want: the sale. The path may involve direct mail to get your prospect to the show. It might mean inviting your market to come see a new product launch. Could be that you're offering an incentive to her to stop by your booth.
Whatever approach you take, you're engaging in building a relationship with that person. In some cases 'relationship' may be too strong a word, but in most cases it applies. You want the prospect to feel good about coming into contact with your company. You want them to get a lift from using your product. You'd like to invoke a positive reaction when they see your tradeshow booth.
All of this comes together to build a market of people that respond: they purchase products, they engage, they spread the word.
And with all of that engagement on a large scale the small things can have the most personal impact.
Take a birthday card, for example.
I don't know where companies get the information, but every year when my birthday rolls around, I get cards. They come from real estate agents, mortgage brokers, auto dealers, car dealers. Of course I'm glad to get them, but they don't mean as much as the hand-written card I get from a good friend. The business-birthday cards are mostly cranked out by an automated system. Yes, some of them have a brief hand-written note. But I know they're still trying to do one thing: get me to come buy something: "Remember me! I'm still here! Wanna new car? Need a new house?"
It's all a sales pitch, built around the birthday card.
I like to do something a little different. When I get to know my clients I make sure I get their birthday and stick that info into my SendOutCards database (disclosure: I'm a SendOutCards affiliate). Then when their birthday rolls around I get a reminder when I log on to the SOC site. I can jot a personal note and – here's the neat thing – stick a gift card into the card.
Most often I'll put a $10 Starbucks coffee card in because it's a great pick-me-up to the recipient without overdoing it. Who doesn't want to spend $10 at Starbucks?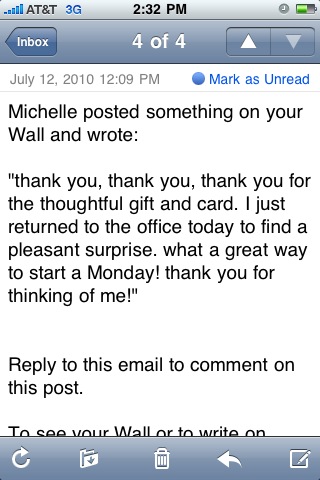 Now you may think I'm pitching SendOutCards, but if you think that's all I'm doing, you're missing the point. It doesn't matter how you make the connection – only that you make it. What really makes MY day is when I make THEIR day. When someone opens up a birthday card from me and is surprised – first by the card, second by the gift card – and they let me know by e-mail, phone or maybe a simple posting on Facebook – it totally makes my day.
Not only have I made their day, I've solidified myself in their mind as someone who is separating myself from other suppliers and salesmen.
Getting a wow 'Thank You!' under these circumstances demonstrates a deepening of the relationship.
What are you doing to deepen your relationship? Are you saying thank you? And are doing anything that elicits an enthusiastic 'Thank You!' from your clients?