As a confirmed people-watcher, I'm always curious about tradeshow visitors. Who are they? What are they doing there? What are their goals? What's on their agenda? Where are they from? What's their life story? What do they do after the show?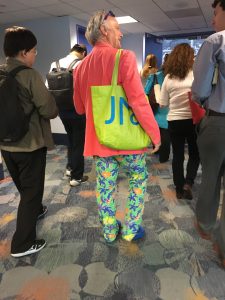 Given the wide variety of people you'll see at a tradeshow, I thought it might be fun to take a look at a handful of visitors you'll no doubt run into at your next show, whether as an exhibitor or attendee.
The Salesperson: Okay, the old-school salesperson. Usually, a guy, because that's the nature of the job. An old-school salesman will gladly introduce himself and within a few minutes, he'll download a gigabyte or two of information into your ears whether you asked for it or not. He's all about the features and benefits! And not so much about trying to be a good communicator. To him, being a good communicator is getting all of that information out before you flee.
The Trick-or-Treater: All about the freebies. Grab a bag, fill it up, repeat.
The Uncomfortable "Me" Individual: Since they aren't comfortable being at a show talking about their products or services, they'll often talk just about themselves. It's their favorite subject and as such, it's easy to go on and on. And on. And on.
The Sharer: These people live via their social media outlets. They'll snap your photo and post it in an instant; they'll follow your platforms, and they'll add you on LinkedIn at the drop of a hat.
The Newbie: Nope, never been to a show. It's all a blur to them. If they're lucky, they'll make it through the three or four days onsite without waking up with a hangover. Because, since they're newbies, they think being at the show is an opportunity to partay!
The Spy: This person could be a combination of the Escape Artist and the Job Seeker. The main thing is, you won't see them as much as sense their presence – on occasion. The Spy as Escape Artist takes the few days of the show or conference to grab some sight-seeing time; the Spy as Job Seeker is making the rounds at various exhibits keeping their ears open for job openings.
The Dealmaker: Whether they're looking to make a good deal, a great deal, or a lousy deal, they seem determined to cut a deal with someone. Anyone. Just make sure they have something to take back to the office that shows they're doing their job.