This is a guest post by Samuel J. Smith
Many exhibitors crave ideas on how to attract more visitors to their tradeshow booth.  They want an attraction that makes their booth irresistible for attendees walking down the aisle.
Do you want to drive booth traffic, too? Here are 5 proven ideas you can consider:
Product Demonstration
Rather than make all their purchases over the Internet, buyers continue to go to trade shows because it allows them to see and touch real products in person. Leverage this strong advantage by demonstrating your products in your booth.  Show how your product solves real problems. Have a presenter constantly demonstrating your product, and even invite attendees to try your product themselves.  Just be sure to have your booth staff trained to perform the demo smoothly, especially if it's a new product.
Games & Contests
Attendees love to play trade show games.  They can have fun, win prizes, compete with colleagues, and even learn something about your products during the game. Trade show games can be selected to fit your audience and booth size. They can be designed to include your company branding and logo. You can host games that are digital or old-school analog style. Games rejuvenate attendees drained from tromping down too many aisles, so they're ready to talk shop with you again.
Experiences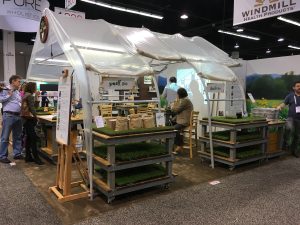 When a simple giveaway isn't enough, exhibitors are upping their game by hosting experiences in their booth.  Experiences are best when they are immersive, personalized activities that emotionally connect buyers to your brand story.  They engage the senses and are hands-on. Experiences that attract visitors to your trade show booth require space and staging, which means planning your exhibit design in conjunction with your activity.
Technology
Trade shows continue to remain relevant and grow in part because exhibitors have integrated technology into their exhibits.  Tech-dependent attendees are never without their smart phones, tablet computers, and the Internet, so exhibitors include tech to match attendees' higher expectations. What content works best on all that technology? Exhibitors start by showing their websites or PowerPoint presentations. Some graduate to videos or apps made just for the show. Augmented Reality and Virtual Reality are sought by exhibitors with the largest budgets and longer planning timelines.
Entertainers
Some exhibitors choose to put the "show" back into trade shows by hiring entertainers in their booth. They may be magicians, artists, dancers, celebrity lookalikes – any kind of performer that will attract visitors to your booth. The best entertainers will customize their performance to blend in your product messages.
With hundreds of exhibitors at the average show, you need an edge to get attendees to stop by. When you choose any of these 5 ideas to attract visitors to your booth, you'll make your space, and thus your company, more interesting.  Not only will attendees will be more engaged, but your booth staffers will also have more fun, too.
---
Samuel J. Smith is a thought leader, researcher, speaker and award-winning innovator on event technology. In 2011, BizBash Magazine added Sam to its annual innovators list. Since then, Sam has won awards from Exhibitor Magazine, IBTM World, RSVP MN, International Live Events Association and MPI for innovation in event technology. You can read more from Sam at http://www.socialpoint.io and reach him by email at samueljsmith@socialpoint.io.
---