Tradeshow numbers rattle around my brain. It's just part of the scene, man.
For instance, when someone asks how much exhibits costs, I whip out this factoid: industry averages for a custom designed and fabricated island booth ranges between $135 and $165 per square foot. Your mileage may vary.
If they ask about inline booths: Industry averages for inline booths is around $1,000 per linear foot. Again, your mileage may vary.
But there are other numbers, too. If you toodle on over to Statista and check out their facts on tradeshow marketing in the US, you uncover some more interesting numbers:
Average number of tradeshow visitors per 100 square feet of exhibit space in the US: 2.2
Average time tradeshow visitors spent viewing exhibits: 9.5 hours
Share of tradeshow visitors attending that tradeshow for the first time: 38%
Let's stop a moment. Think about that last one. Over 1/3 of all tradeshow visitors to that show you're exhibiting at are NEW to the show. Never been there before! You're exposed to a whole lot of new people. And think about the number of people – 62% – that may already be familiar with your brand. Put those together and 100% of the people at the show you're exhibiting at next are susceptible to your brand message.
Now a few more:
Share of tradeshow visitors planning to buy exhibited products or services: 48%
Share of potential audience who remembered visiting a company's tradeshow exhibit: 81%
A few more fun digestible numbers from WillWorkInc:
Worldwide the tradeshow industry is worth about $14 billion, which is about 2.7% in 5 years.
Even though tradeshow attendees average 2.3 days and 9.5 hours on the tradeshow floor each year, 46% of those attendees only go to one show a year – make that visit count!
82% of attendees had buying power, according to Exhibit Surveys. Sell something!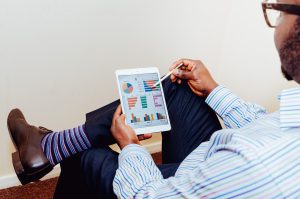 From big shows to regional and local shows, putting up a booth with an accompanying tradeshow marketing program is an effective way to reach new markets and create new business.
Let me close with some tradeshow numbers on one of the world's largest shows. Last year's Consumer Electronics Show drew more and 170,000 people for tech's biggest show. In 2017, a show which closed down less than a week ago from this writing, the show celebrated its 50th anniversary with more than 3,800 exhibiting companies and more than 2.6 million net square feet of exhibiting space. More than 175,000 industry professionals, including 55,000 from outside the US for the Las Vegas event.