"Write a book!" they said, so I did. Two, in fact. Here's the short version of how it unfolded.
As a kid I thought the best job ever was to be a Beatle. The second-best job would be a comic book artist. But the third-best job? Being an author. A novelist! Reading those great science fiction novels by Isaac Asimov, Philip K. Dick, Robert Heinlein, Arthur C. Clarke and others, I dreamed of creating a life in the stars (on paper). I tried my hand at a number of stories but was never satisfied. So with my love of music I gravitated to a job that was more fun: being a radio announcer.
After 26+ years of radio, I arrived in the tradeshow world. I wanted to do something to differentiate myself that involved my love of writing and creativity (which I never really gave up). Hence, I blogged. Quite a bit, in fact. This blog, the TradeshowGuy Blog, published its first article in November of 2008. Ten years!
Along the way I published a pretty popular e-book called "101 Rules of Tradeshow Marketing" which was downloaded over 5000 times (I obsessed about the stats back then – I don't obsess on stats any more).
The First Book
But a real book? One that you could hold in your hand and give away or sell? That seemed like a big challenge. My thought was to write a book to use as a heavy business card that thudded when it hit someone's desk. To differentiate myself from others. To be, well, an author!
In 2010 I started. And fizzled. Tried again a year or two later. That fizzled as well. Long-term focus on this goal was difficult with lots of distractions.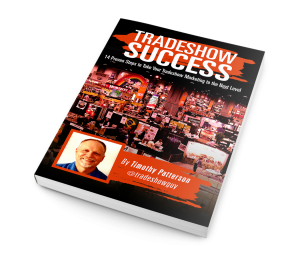 But in early 2015 I started again with renewed focus determination, and was not willing to take no for an answer. After about six months I came up with a first draft. I reached out to Mel White at Classic Exhibits, who has been very supportive of me and my business over the years. He offered to go over the manuscript and offer his comments. This was critical to keeping the project moving forward.
In the meantime, I'd been reviewing a number of self-publishing platforms and kept seeing and hearing about CreateSpace, which was by then an arm of Amazon. It seemed easy-peasy to be able to submit a manuscript in almost any shape and by choosing a specific package you could have yet another editor or two or three do their magic. CreateSpace also handles the registration of an ISBN number, and since they are owned by Amazon, the seamlessness of having your book appear on Amazon for sale as both a print-on-demand paperback or Kindle download. CreateSpace also wrote marketing copy based on your outline.
Based mostly on budget, I picked one of their mid-range packages which meant they would have two editors look at it. One would do "line editing," which is where a professional editor helps "strengthen your manuscript's content with one round of feedback and connections to structure, plot, characterization, dialogue, and tone from a reader's point of view." Then a copyeditor goes over the manuscript with a fine-tooth comb, picking it apart grammatically and with an eye to classic punctuation and editing standards: "includes an average of 10-15 typographical, spelling, and punctuation revisions per page that your readers will notice – but your word-processing software won't."
The whole process of editing was eye-opening, and a learning experience. I disagreed with a few of the suggestions made but kept most of what the pros advised. I figured the best thing was to humbly submit to the process and do what was necessary to make the manuscript better.
Something I really wanted in the book to break up the big blocks of text was a series of cute black and white line drawings that supported and enhances the "fun and educational" feel of the book I was going for. I looked first on Fiverr.com but didn't find any style of drawing that I liked that much. Eventually I landed at Thumbtack.com, asked for some examples and ended up choosing an artist named Jesse Stark. His drawings were exactly what I had envisioned, and his price was reasonable and fair.
Now for the cover. Not being a graphic designer, but wanting to at least give it a try, I mocked up a handful of potential covers. I didn't really like any of them (did I mention I'm not trained in graphic design?), and asked Jesse if he would be interested in doing a cover. He was, and after some discussion, came back with a mockup. I wasn't crazy about it, and thought it needed a photo of a tradeshow floor that showed dozens of booths from a high vantage point. I finally tracked down a photo I had taken at Expo East in the early 2000s from that angle, and had him use that to complete the cover. (Side note: Jesse also designed the TradeshowGuy silhouette that I use in the company logo).
As you might imagine, the hardest thing to do when assembling all of the pieces of a book project is what to name the damn book? I rejected a handful, but only debated a few over the nearly year-long project:
Deconstructing Tradeshows: 14 Steps to Tradeshow Mastery
Create a KickA$$ Tradeshow Experience: 14 Steps to Tradeshow Success
There were a couple of others that were floated, but those two got serious consideration. Eventually, though the book was titled Tradeshow Success: 14 Proven Steps to Take Your Tradeshow Marketing to the Next Level. You've got to settle on something sometime, right?
The book made it to Amazon on late October 2015, and I officially launched it the next month with a video series, a flurry of press releases and some giveaways. My view on publishing a book, though, wasn't to sell as many copies as I could. It was to have something that no other tradeshow project manager had: a book.
The book was mentioned in some local business publications, and I've showed it off at networking meetings (who else has their own book?!), but the most notable mention came when Exhibitor Magazine published a multi-page article on the book and me. As one LinkedIn colleague said, "It doesn't get any better than that!" So true.
The Second Book
Time passes. After the initial excitement of having a book to promote and giveaway fades, thoughts turn to what to do as a follow-up. It's been said that one of the best ways to sell and promote your first book is to write a second book. But what would that second book be when I felt I put all I knew into the first book. And I knew I wanted a second book to follow up the first one.
It took a while, but I came to settle on the idea of taking the dozens and dozens of list blog posts I'd written for the blog. It took some time assembling all of the posts – many covered similar topics and had to be combined and edited – but once that was accomplished, I reached out to Mel again for help.
This book didn't write itself, but since the content had already been created it was a matter of grouping the lists into specific topics was the main task. And of course I wanted the same illustrator so I emailed Jesse to see if he was interested. He said yes, so we moved forward.
The second book, still untitled, was a lower budgeted affair. I enlisted Mel again, and he also had his English professor wife, Mary Christine Delea, go through it as well. Once their two edits were done, I uploaded to CreateSpace, agreed on the more modest single line edit requested before going to print.
Now…what to title the book of lists? I had a couple of lists that referenced zombies, and one that referenced superheroes, so I played around with them for awhile:
Quirky Interactive Activities, Exhibiting Zombies, and Tradeshow Superheroes: A By-The-Numbers Guide on How to Take Advantage of the Most Effective Marketing Vehicle the World Has Ever Seen (I think this won a record of some sort for longest proposed title!)
Exhibiting Zombies, Tradeshow Superheroes and Quirky In-Booth Activities:
A List Manual on How to Take Advantage of the Most Effective Marketing Vehicle the World Has Ever Seen
Exhibiting Zombies, Tradeshow Superheroes and Delighted Visitors:
Exhibiting Zombies, Tradeshow Superheroes and Elated Customers:
Exhibiting Zombies, Tradeshow Superheroes and Delighted Customers: etc…
After some back and forth, it came down to Tradeshow Superheroes and Exhibiting Zombies: 66 Lists Making the Most of Your Tradeshow Marketing.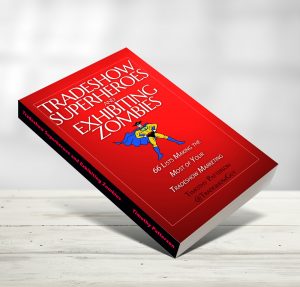 For publicity, I did a little, including sending out copies of books to tradeshow publications and press releases to local business publications. I also spent a very modest amount of money on a Twitter book-promotion platform that promised tens of thousands of views of promotional tweets. Modest: less than a hundred bucks. Nothing came of it. Again, the point was to have another book to give to prospects to differentiate myself, and if a few copies sell, well, great!
Interestingly enough, sales have picked up in the past few months with no further promotion. Maybe having both books out there and easily found on Amazon is working!
If you have an idea for a book, should you self-publish, or should you pursue the traditional route through a publishing house? Both have their pros and cons, but to me having complete control over the look and feel of the books and getting a much higher royalty rate made sense for my approach. Yes, the distribution at this point is ONLY online, but to me that's sufficient. I didn't write to sell a trainload of books, I wrote to differentiate myself from other exhibit houses and project managers. And to that end, I feel I've succeeded.
Now my main thing is making sure that potential clients have a copy of one or both books. That, and thinking about what I might write for a third book in the next couple of years.
Got any ideas?