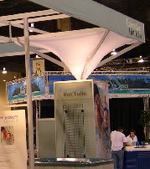 Joyce MeKee at LetsTalkTradeShows.com got together with Skip Cox of Exhibit Surveys recently for a webinar on the new ROI Toolkit created by Exhibit Surveys, IAEE, CEIR and PCMA. The ROI Toolkit was released by Exhibit Surveys in January of 2008 after years of development. The webinar is an effort to explain what it does, and how it can help with your tradeshow marketing – as well as show you exactly how the ROI toolkit works.
Check out the webinar here at LetsTalkTradeShows.com.
Take a look at the ROI Toolkit from Exhibit Surveys here.