No matter what the circumstance, moving out of your comfort zone is not easy. But busting that comfort zone is often a key step to growth.
Most clients I work with on new custom tradeshow booth projects are on the verge of moving out of their comfort zone. Why? Because they're moving from simple pop-up type exhibits to full custom designed and fabricated booths. In other cases they're moving out of the comfort zone of not doing tradeshow marketing to appearing with a small pop-up a regional shows.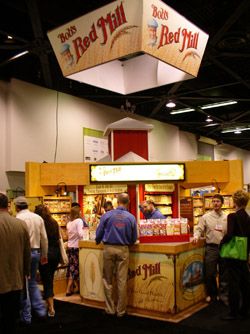 That means they're stepping into dealing with a larger plan that involves shipping, storage, drayage, show labor and more. Most of that stuff they haven't had to deal with – at least not on the scale that a larger custom booth demands. It's not as easy as shipping a small booth case with a few graphics. Now you're dealing with common carrier shipping lines, larger storage spaces, and coordinating a set-up staff that you may have little communication with or control over.
A recent prospect made the decision to move into a larger 20×30 booth from a 10×20 in-line booth. They were ready to step up and break through that comfort zone as a company. But something happened on the way to the tradeshow. They started adding up the cost of drayage, storage, shipping – not to mention the cost of design and fabrication. Then the economy started to slide, so they regretfully sidelined the new booth project. Not because they didn't want the new booth, but because the realities of all of the ramifications hadn't been fully calculated. They were not quite ready for the new reality of living with a larger booth.
But there are many more examples of companies I've worked with that have made the step successfully. All contingencies were examined, all costs were vetted, and the decision was made to proceed. Bob's Red Mill, of Milwaukie, Oregon, is a good example of this (see photo). When it was time to move up they made the commitment, and are extremely pleased with how the new booth has helped their marketing efforts at the larger tradeshows.
From my vantage point, all the folks I work with are more than happy to have made the change, no matter how uncomfortable it may have been working through the process. They have a nicer, larger booth that proudly shows off their brand and help bring in more business. Clients rave about the new booth and everyone goes home happier.
And dealing with all that stuff – show labor, shipping, drayage, etc. – becomes the new norm. So it doesn't take long before you're back in your comfort zone again.