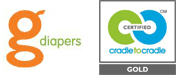 Interpretive Exhibits designed and fabricated a shelving back wall with signage (photo below) for gDiapers a year or two ago, and since then have gotten to know several of the great folks in the company.
Just last week gDiapers had a grand opening of their new location on MLK Jr Blvd in Portland. One reason we love working with gDiapers is because they expend a lot of effort doing good things in the world: they have a family-like atmosphere at their office where kids come to daycare; strong pro-environmental policies are a way of life, and its obvious that a lot of love and passion is floating through the building.
Business Name: gDiapers

Person responding to questionnaire: Jason Graham-Nye
Title: Dad/ CEO / co-founder
Years in business: 5
Location: Portland, Oregon
Approx number of employees: 15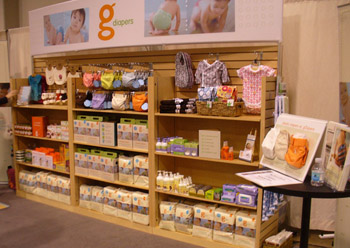 Website Address: www.gdiapers.com
Main target market: Mums and Dads and whoever has stores who cater to them.
Most successful marketing strategy/tactic or method: Tapping out most passionate customers and let them tell the story.
What is the best thing you get out of tradeshow marketing? It's the one place where you can have conversations with key buyers in a compact period of time. The booth tells the brand story succinctly.
Biggest complaint? It is often hard to nail down appointment times at a trade show.
Favorite Quote: Whatever you focus on grows.
Biggest Lesson Learned: Everything takes twice as much time and twice as much money as you originally thought. And it's all about the people.
Most extreme thing you ever did? 7 marathons completed.
Inspiring movie you'd recommend? Chariots of Fire.
Thanks to Jason and his awesome crew at gDiapers for participating in our Customer Profile!