If that headline mystified you – because you don't know what the heck a 'spurtle' is – you're not alone.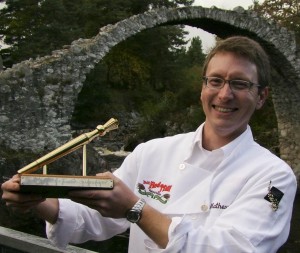 For starters, a spurtle is is a Scottish kitchen tool that dates back to the fifteenth century. The 'Golden Spurtle' is awarded each year in Scotland to someone who cooks some darn fine porridge in the World Porridge Making Championship, in Carrbridge, Inverness-shire, Scotland, on 'World Porridge Day'. As the website states, "The title of World Porridge Making Champion is awarded to the chef deemed to have made the best traditional porridge using oatmeal, water and salt."
From what I can gather from talking to the folks at Bob's Red Mill, the competition, which is put on by the Scots, is usually (if not always) won by a Scot.
Not this year. In October of 2009, Matt Cox of Bob's Red Mill (an Interpretive Exhibits client), claimed the title and the Golden Spurtle. The follow six-minute film of the event is a bit of a kick.
Our congratulations to Matt and Bob's Red Mill! Our big question is: you are going back to defend your title, aren't you, Matt?