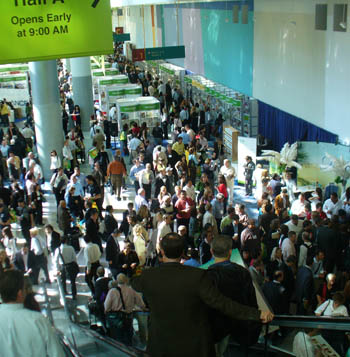 I'm heading south to LA (or as my friend Roger who lives north of downtown LA likes to refer to it: Hell-A) in a few hours to go to the Natural Products Expo West, held at the Anaheim Convention Center just across the street from Mickey and Minnie and Goofy and the others at Disneyland. Which is a great distraction if for some reason the Expo isn't entertaining enough.
In the lead-up to Expo West, it was curious to see how the Twitter chatter has increased exponentially in the past 6 – 8 days. Three weeks ago I three the hashtag #expowest into the Twitter stream to see who might be going to the show…and barely got a bite.
But since late last week, the hashtag is showing up a few hundred times a day. I've compiled a list of 50 or so Twitterers (Tweeters?) who are exhibiting and plan to stop by and introduce myself.
The show is a great experience; this will be my 8th time. The first time you walk in that exhibit hall you're overwhelmed and whatever plan you thought you had becomes secondary to all of the sights, smells, tastes and wonderful wacky people and exhibits that make up the Natural Products Expo West. This is where thousands of exhibitors meet with tens of thousands of attendees. Distributors, producers, retailers, manufacturers and all of the supporting vendors and folks who make the natural products industry go.
Yes, it's quite a scene.
The first year I went I was pleasantly surprised to learn that Ziggy Marley (one of my faves) was the singer at the annual free show for attendees. This year its his little brother Julian Marley.
If You Go: What do you like to do at the show? Who do you like to connect with? What products are you looking for? Are you selling or buying? Is the show getting old and jaded because you've been coming for twenty years? Or does it feel fresh and vibrant? I'd love to hear any comments…!
The company I work for, Interpretive Exhibits, has about eight booths set-up at the show. No, not OUR booths…booths that we designed and fabricated for other clients, including Bob's Red Mill (booth 2546), Mountain Rose Herbs (2820), Nancy's Yogurt(2780B), Natracare (3516), Hyland's Homeopathic (1352), Bi-O-Kleen (3957), gDiapers (3358), and Earth Mama Angel Baby (4120). We also have a handful of other clients that are using booths we sold, but didn't design and fabricate.
One notable exception this year in our line-up is the 20'x30′ booth we built for Kettle Foods in '02. After the original owners sold the company a few years ago, the new owners took a closer look at all marketing expenditures and decided that the amount of money going in to tradeshow marketing was not giving them the return they desired. That and the fact that their image is so entrenched in the marketplace. So they're looking for other ways to market with those sames dollars. And interestingly enough, they'll have a new owner on board (as soon as the deal with Diamond Foods is approved) which could put them in a different direction all together.
So…Tweet-up? The details are in the right hand column of this blog – if you're at the show and can make it, by all means, do! I'd love to meet you!