(the following was previously published in the Salem Statesman-Journal):
The tradeshow is a unique marketing beast with a lot of tentacles and unless you control them they'll end up controlling you.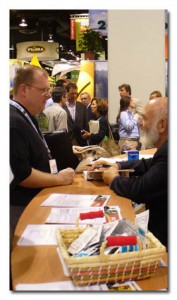 But trade show marketing can be one of the most effective uses of your marketing dollar – IF you know what you're doing. A recent report by Forrester Research showed the top 3 tactics marketers rely on were email at 87%, Public Relations at 77% and trade show marketing at 74%.
To begin with, when you exhibit at a trade show (not a consumer show, but a show specific to your industry), the audience consists largely of decision-makers who have PAID to attend. So they want to see what's new, exciting or improved.
Second, trade show marketing is unique in that it's one of the few places you can engage with a prospect one-on-one and find out what's really important to them.
And third (I love this one!) a trade show is great for spying on the competition to see what's new and upcoming with them.
Exhibiting at a tradeshow is more than just renting or buying a booth, setting it up and handing out brochures. The tradeshow environment is like nothing else; prospects should be qualified or disqualified quickly with a few pointed questions.
But it does work: less than three months after launching a new 10' x 20' custom booth at the Natural Products Expo in Anaheim, Portland's gDiapers (now former) National Sales Director Mike Internicola said, "Our business has doubled since Expo."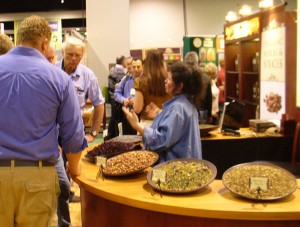 Mountain Rose Herbs of Eugene has seen double-digit growth for the past several years. Operations Manager Shawn Donnille says it's due to 'brilliant marketing' and the fact that they are hitting several markets that can use their product. Trade show marketing has been a major piece of their marketing strategy for years.
Interactivity is a big draw. By bringing people into your booth you have an opportunity to engage them one-on-one. Usually a few questions are sufficient to qualify or disqualify them as potential customers.
Your entire staff should onboard see the entire trade show marketing picture, from the company's show objectives to the pre- and post-show efforts to the nuts and bolts of what questions you're going to ask visitors to qualify them. Once they see that, it's easier for them to understand their role and buy into the company's show objectives.