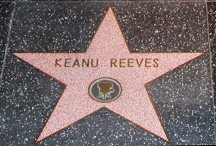 In the past year or two I've had a handful of clients that had to either re-do tradeshow graphics or send in umpteen versions of the files because people kept finding things they wanted to change.
One company even had to re-do graphics two days before the show because the company's name was misspelled. Uh-huh.
It happens all the time, of course. We send out proposals for projects and later find a few errors that we should have corrected. No one is immune from the grammatical and punctuation error disease.
So when I came across this in my in-box this morning from Todd Hunt, I thought I'd share it:
Julia Louis-Dreyfus, former star of "Seinfeld,"
received a star on the Hollywood Walk of Fame last week.

Too bad they misspelled her name Luis Dreyfus (without the "o" and without the hyphen).

Hollywood honchos reportedly learned about the error only after a passer-by (no, not me — I wish) spotted it as workers were installing the star.

So they scrambled to create a temporary replacement in time for the ceremony, and promised to fix it permanently.

Reminded me of other stars whose names are often misspelled.

Ann-Margret (not Margaret — Swedish you know), and the hyphen is part of her name.

Ginger Rogers (not Rodgers).

And Katharine Hepburn
(not Katherine, Catherine or Catharine).
Todd is good at watching out for those types of things. His "Hunt's Headlines" newsletter is always short, useful and entertaining (subscription information below).
No matter how often you look at a tradeshow graphic or brochure that's going out for printing, getting one more set of eyes on it can't hurt. Proofing by a couple of people is good, normal and usually adequate. But double-checking your double-checking is also good.
After all, when you miss something and the boo-boo goes out for public consumption, people WILL notice – at least some. And they'll remember that mistake – and your company – and think "Why didn't they proof that any better?"
HUNT'S HEADLINES is a free e-Letter from Todd Hunt, business humorist, speaker and author. Book him now to add fun to your next meeting and send members back to work smiling, with tips to improve communication and success. For information, http://www.toddhuntspeaker.com
photo copyright via Creative Commons by Yarl