I don't usually do hard news on this blog, but I was contacted this week by The Chicago Convention & Tourism Bureau (CCTB), who asked if I might be interested in taking a look at the following story. Having been to Chicago a couple of times for events at McCormick it's good to see this consumer-focused legislation moving into place.
(Dateline: Chicago)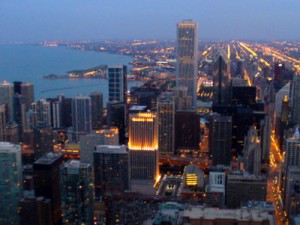 Changes were announced this week that "truly changes the landscape here in Chicago," according to David Causton, McCormick Place General Manager.
What are the changes?
New legislation that wound its way through the Illinois General Assembly that basically gives the customer (the exhibitors) a new bill of rights.
For instance, "The legislation grants exhibitors the ability to do their own electrical work or contract it out, and bring in their own food for personal consumption." That from the press release issued last Friday, May 7th by the Chicago Convention & Tourism Bureau (CCTB).
According to the e-mail I received this week from Maura Cheeks on behalf of the CCTB, the legislation is waiting for Governer Quinn's signature to become law. He's expected to do that soon.
As Maura put it: "The new legislation will create a new business model for McCormick Place. This important first step was the collaborative outcome of state, city, business and industry leaders to bring a host of positive changes for our meeting and convention customers, exhibitors and attendees."
Check out links here for more on the story:
The CCTB's official statement in support of the bill.
The CCTB's President, Tim Roby, has presented a webcast with Dave Causton, General Manager of McCormick Place, to discuss how these proposed changes will benefit Chicago's convention customers and exhibitors. View the webcast and video comments here – or click to view now:
httpv://www.youtube.com/watch?v=1R9IAkOCxHY&feature=player_embedded
Along with the CCTB website, check Chicago Meeting Matters for background, fact sheets, videos and other information.
Wow. Hard news from Tradeshowguy Blog. Whodathunkit?