It's September…right? Seems like the summer has gone on a long time this year, and now that September is here and fall is around the corner (at least in the northern hemisphere), I thought I'd put out a Tradeshowguy UPDATE…
First things first: it's been an extremely busy summer – but most of that business has been away from work. I got engaged to a lovely lady in June, moved into a new house with my fiance and her son in August (not quite done with that), and now am spending time getting my old house in shape for rental. Yes, good grief, I'm going to become a landlord. I also did a little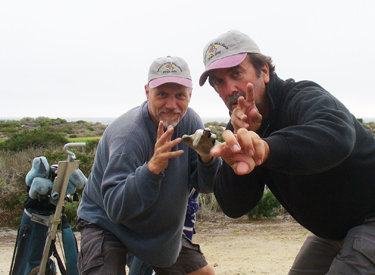 traveling and…as a result, managed to put the Tradeshowguyblog on the back burner for must of the summer. Aside from a few random posts, you didn't see or hear from me much at all!
Not only that, but my company, Communication One Exhibits, is just starting work on a large tradeshow booth for a great client (more on that later). We've been in the design phase since May and are about to move into fabrication.
I'm also closing in on completing my first book – which has nothing to do with the tradeshow industry! It's a fun history book that has been a joy to write. It should move into the design phase soon and I hope to have it out before the end of the year (again – more on that later!). While it currently doesn't take up much of my time, it did occupy me a lot during late spring and early summer. So yep, that was another area where I dedicated time, energy and resources.
So, given all of the non-online activity in my life, what's the outlook for Tradeshowguyblog.com? After all, since I started the blog in 2009, my goal has been to post 2-3 times a week, which has happened consistently since then with few interruptions. Frankly, I think the frequency of posts will diminish, but my hope is that the relevance of the posts will remain high or increase. I'd rather have one or two great posts a month than eight or ten so-so posts. When I've taught blogging at seminars and webinars, I've always held that consistency is important – more important than frequency. So no matter if you're posting daily, weekly, or monthly: just make sure your audience understands your commitment – and live up to that commitment. And if it changes, let them know.
My other company, Communication Steroids, with my partner Roger Pike, is also reassessing our future. We're looking to focus on providing online training for public speaking, social media engagement and other related topics – but again, that won't happen until the personal stuff in our lives gets a little more normal (whatever that is!). The interesting thing about being a self-employed entrepreneur in the tradeshow industry is that, while there are always a lot of small projects that come and go, it's the big ones that take up your time and energy. However, at my level, having a couple of big projects each year is quite sufficient. Any more than that and I've had to become more than just a single self-employed entrepreneur with a partner – I'd have to HIRE people instead of working with sub-contractors. For now, that's more than I want or need.
If you've made it this far – thank you! I really appreciate your readership. If you're a regular reader of the Tradeshowguy blog you should know that I'm still passionate about social media, even though it's a fast-changing landscape and what worked last year may not work this year. That's what makes it exciting – and I will definitely have a lot more to share about social media in the months and years to come. So stay tuned…!