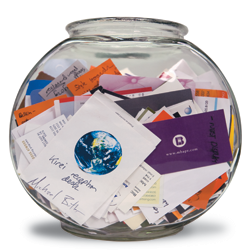 We've all been to those shows. Maybe it was a small Chamber of Commerce show, or a county fair or a local public tradeshow. You see booths with the standard six-foot table with a drape in the front of the booth, and someone has put a fishbowl on the table with a small sign that says if you toss your card in the fishbowl you might win something!
Or you see a spinning wheel where you are spinning for a small prize, and perhaps one larger prize. People line up several deep to take a shot at winning a pocket-size LED flashlight, some lip balm or some other little item.
Now and then you see a dunk tank or maybe a little golf putting green that draws people to a booth by the dozens.
These are not effective lead generation activities. You may think they are, but if you're hoping to attract buyers to your booth or leads for your sales team to follow up with using these flimsy tactics, you might as well stay home and send me the money. Nope, tradeshow success is all about drawing a crowd and knowing what to do with it.
People who put business cards are not prospects. Most will simply plop a card in the bowl and wander off. You haven't talked to them; you don't have a valid reason for a follow up call.
And that wheel? What did you learn about that woman who won some lip balm? Probably nothing.
Lead generation is the specific activity of capturing contact information and related follow up information from visitors so you connect with them shortly after the show. A valid lead is someone who you've talked with enough to find out if they're interested in your products, are nearing a buying decision and are seriously considering your company's products or services.
So leave the wheels and fishbowls to your competitors.