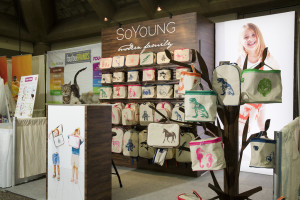 One of our recent booth projects over the summer was a custom portable modular booth for the Toronto-based company SoYoung. The project turned out so great and people loved the look, that the design and fabrication team at Classic Exhibits thought it should be entered in the Exhibitor Portable/Modular, which recognizes design excellence. So it was. And it made the finals round where you, the public, get to vote!
Classic Exhibits also had two other projects make it to the finals round: Philadelphia Commercial and Nationwide.
The rules for the voting are simple: you can vote only once a day, but you can vote every day.
To vote, simply go here. To learn more about the awards, check this page.
Thanks to SoYoung for letting us design and fabricate their exhibit, and for letting us enter it in the design excellence contest.
And to see a full gallery of photos of the SoYoung booth, check it out here.