Tradeshows are a great opportunity to promote your company. Yeah, we all knew that already.
But are you promoting the company's brand away from the tradeshow floor?
If you have branded shirts, wear them as you travel. Put the shirt on prior to leaving for the airport. There's a good chance someone will be on the same flight going to the same show. If they're familiar with your brand, it might prompt them to strike up a conversation with you. If not, maybe they'll remember the logo when they walk the floor and see your booth.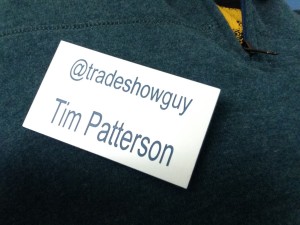 At the show, you'll have your show badge, but what if you had a personal name tag as well? Something like that would stand out a little, too, giving people another chance to remember your name and company name. Getting a name badge with your company name and your name costs only a few bucks, and you can wear it at all public events.
If your company throws parties for clients and prospects at the show, there's another opportunity to show off the brand with embroidered shirts and name tags, not to mention some other item, such as a kiosk in the corner of the room that allows people to charge cell phones. If you have one of those branded charging stations for the booth, there might be other opportunities to use that away from the tradeshow floor. Think where you might find that opportunity.
Tradeshows are full of competing companies, all vying to get their name out in front of their competition and in front of your eyeballs. Finding other opportunities to brand your company away from the tradeshow floor might give you that edge you've been looking for.