This is a guest post by Charles Dugan of American Image Displays
---
There is no such thing as a closing a sale by luck at a trade show. The process of generating and closing leads is defined even before the event begins. Believe it or not, although most exhibitors collect leads during the trade show, many of them have no plan in place for following up. According to a study by Exhibitor Media Group, 98 percent of trade show exhibitors collect sales leads at trade shows, but less than 70 percent have a formalized process in place to follow up on those leads.
Trade show success is a result of strategic actions taken before, during, and after the show.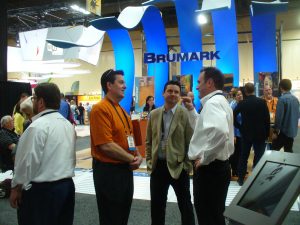 Before the Show
The actions you take during the pre-show phase will directly impact how effective you are at generating quality leads. Here are four  pre-show tips:
Choose the right show
When it comes to choosing which shows to attend, think quality over quantity. It's better to select a show that has one hundred attendees with a need for your product, than a show with thousands of attendees who aren't looking for the type of solution you offer. Select trade shows based on industry, location and size; events where there are high quality leads that fit your customer profile.
Perfect your pitch
Make sure to practice your pitch before the show. You should be able to answer questions fluidly and naturally, building attendees' trust in your knowledge and authority.
Reaching out to attendees
View the trade show's mailing list (if available) to see who will be attending the event. Reach out to these individuals and introduce yourself through email or social media. LinkedIn works especially well for this.
Implement a lead collection system
Whether your system is as simple as jotting down each lead's information on a clipboard or as complex as using a full-scale CRM software; be sure it allows information to be recorded efficiently and in an organized manner. Collect as much important information as possible. These details can come in handy later during the follow-up.
During the Show
Follow these steps during the show to build rapport and set the stage for a successful close.
Reserve a private room
Consider renting a private room. Trade shows can be noisy and busy. By reserving a private room, you will have a quiet place to bring leads to answer their questions, discuss pricing, and even draw up contracts; without the distraction of the surrounding convention.
Utilize call to actions
Use every appropriate opportunity to prompt attendees to complete a specific action. These call to actions could include signing up for a free trial or a demo, or scheduling a consultation. At the end of each interaction, let each person know what to expect for the next steps – whether it be an e-mail, a phone call, or another form of contact.
After the Show
The trade show may be over, but the job is not done yet! Follow these tips to close more leads post-show.
Persistence
Be persistent in your follow-up, but understand there is a fine line between persistence and annoyance. If you can, mention something specific about your conversation during the first follow-up message so they remember your interaction.
Network with social media
Invite leads to connect with you on LinkedIn or other social channels. This way, they are part of your network for the long-term and can become more familiar with your business.
Tailor your message
Don't use the same follow up message after every show. If your email looks like a form letter, it will be ignored. Instead, tailor your message to each lead. Be friendly and always make yourself available to answer questions.
Conclusion
If there is one reason to attend a trade show, it is to earn more business. Remember that successful lead conversion doesn't start or end at the show. Have a plan in place to ensure you have the best chance of attracting quality leads to your exhibit, and closing deals.
---
About the Author
Charles Dugan is the President and Owner of American Image Displays, a trade show display and equipment company based in Seattle. He has over 20 years of experience consulting businesses with their trade show marketing.