Should you put out a tradeshow exhibit RFP or not? What's the upside? What's the downside? It might be worth a few moments to go over the pros and cons of putting out a tradeshow exhibit RFP. Okay, this may not be the Ultimate Cheat Sheet on Tradeshow Exhibit RFPS but it's a start.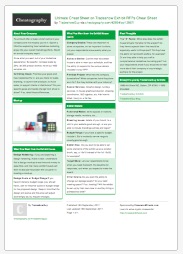 If you're seriously considering putting out a tradeshow exhibit RFP, it must mean that you need a new tradeshow exhibit. Really need one. Not just wish you had one, or think it might be time soon. No, you really need one. Otherwise, don't waste people's time. Exhibit houses are busy places, and responding to an RFP takes an investment of more time and money. In fact, according to a recent Exhibitor Magazine article, exhibit houses say they respond to only 6.5 out of 10 RFPs they receive, on average. And over 10% of RFPs are put out only because company protocols dictate it.
So where to start?
Determine the following items: budget, exhibit size, flexibility (can smaller pieces be set up as a smaller version, for example?), target date, functional needs. You should already have branding issues down along with any color schemes or brand protocols you want your designer to use in a mockup. Speaking of mockups, do you want your RFP competition to include a mockup design? Some do, some don't. No wrong answer, but be clear about your expectations. I've responded to RFPs in the past which invited respondents to submit a sample design, but it was not required. Frankly, having a design makes the exhibit house look better, but it is an investment of labor to make it happen.
Detail any other items you would like for your booth: easy ability to change signage, product display areas, sizes of products that you want to display, lighting requirements, meeting space requirements, storage requirements and any other specifics.
And just for fun, I put together a little cheat sheet that you can download with no strings attached.