Every now and then it's good to take a look at the tools we use every day in our work – hence a list of my favorite useful tools. Whether it's a piece of software, an app, a physical tool of some sort or just a mental approach. Here's what I find most useful these days – the things I use the most:

Computer Software
Microsoft Office 365 for Mac. This has everything, and at a modest price. I use MS Word for writing, Outlook for email, Excel for spreadsheets. PowerPoint is a part of the package, but I prefer Mac's Keynote, which I find more elegant. There's nothing wrong with PowerPoint, and at times I've had to export Keynote presentations to PowerPoint to play them on PCs. I was never fond of the Mac native Mail program, and was glad to see the recent upgrades to Outlook, which used to be Entourage. I've managed to carry my email database through several computers from PC to Macbook over the years, and the current version of Outlook for Mac is nearly flawless.
Keynote. It's a Mac-only program and is useful for presentations of all kinds, whether for a recorded video or a live presentation.
Screenflow. My go-to for video has screen recording, video camera recording and the ability to choose a specific microphone. You can also record screens from your plugged-in device such as an iPhone or iPad, although I've never found an occasion where that was necessary or even useful. But hey, maybe someday! Along with Giphy, Screenflow can create easy gifs as well!
Hootsuite. An online multi-use tool for send out social media items. Send things to more than one platform, upload multiple posts for timed release.
Photoshop. Still the standby for creating quick graphics and photo editing with text overlays. I'm no graphic expert, but I know this program well enough after using it for a couple of decades to get done what I need to quickly. My old CS4 version hasn't been updated for years, and it works well.
UltraEdit. Billed as the world's best text editor. Developers and programmers use it for writing code. But I'm no coder and still use it all the time. For when you want text files with no formatting whatsoever. It also works when you have some heavily formatted text from a website that you want to keep without the formatting. Just copy from the website and paste into UltraEdit and all the formatting is gone.
Scrivener. The best book-writing software I've experienced. Great at organizing notes, drafts, thoughts and more.
Dropbox. Lots of alternatives, but this has been my go-to for archiving client files, sharing files with and from clients and archiving personal photos.
Filezilla. FTP software that works really well. Free is a very good price, too.
Microsoft OneNote. Part of Microsoft Office 365, available as a standalone download. With the MS Office 365, you get a terrabyte of storage which is very useful for storing notes and files. Very useful in some instances, but I come and go from this one. Lots of interesting things in this tool. You can take a photo of a whiteboard for instance, and the app will convert the writing to text. Put it on an iPhone or iPad and you can write notes. I don't use this as much as I probably should!
Microsoft OneDrive. Similar to DropBox, Box and other cloud storage and sharing apps.
CleanMyMac. Between this and MacKeeper, my laptop stays humming pretty well. After all, it's almost seven years old. I've upgraded it with a 1TB solid state drive and maxed out the RAM to 16 gig, but it still needs software to keep it clean.
Google Calendar. I'd be lost without reminders and notifications from Google Calendar. Syncs with the app on my phone.
Adobe Audition. Ever since my professional radio days ended, I still record and edit audio frequently. Part of it is due to my continued volunteering with my weekly reggae show (Monday nights at 6 pm Pacific – stream it live!) on the local community radio station, KMUZ, and part of that is my weekly vlog/podcast, the TradeshowGuy Monday Morning Coffee.
Zoom. I use this for video meetings, mainly to record the conversations for my vlog/podcast. Easy to use and will record the meeting with the click of a button.
Aweber. I've used AWeber for all of my newsletters, autoresponders, etc. for years. The program is easy to use and it keeps getting better. Lots of alternatives, but I've seen no real valid reason for switching.
LeadPages. Lead capture software. You know the ones – the annoying popups that ask you to opt in to a newsletter in exchange for some sort of goodie. Yes, popups can be annoying, but they work and people have gotten used to them. Integrates seamlessly with AWeber and other email programs. Highly recommended for its creativity and flexibility.
Carbonite. One of at least two backups I have. Carbonite works in the background to archive the essential files (not all kinds of files, though – it doesn't typically back up video or audio files unless you ask it to). There is also a Carbonite app, but I've had issues with it. Sometimes it works and sometimes it doesn't. Although there have been times with Carbonite has save my ass on the floor of a tradeshow when I needed to pull up a critical file. More than once.
Time Machine. The other Mac back up. I used it once a week to manually backup all of my latest files.
Soundcloud. This is the host of the audiofiles for the TradeshowGuy Monday Morning Coffee podcast. Easy to use, easy to grab the code to embed the file into a blog post, and useful listening stats as well.
Quickbooks. Money tracking, check-writing, invoicing, etc., at its best.
iPhone apps
Beyond the usual text, email, messaging, maps and such, I find the following apps very useful (links are to the iTunes store):
Google Calendar. Mentioned earlier.
Microsoft OneNote. Mentioned earlier.
DropBox. Also mentioned earlier.
GasBuddy. Only when traveling do I really want to find the cheapest gas, but when I do, this is a great little tool.
Road Trip. Tracking of automobile gasoline and repair costs.

Waze. Another GPS enables navigation aid, complete with crowd-sourced warnings and alerts on traffic jams, stalled cars, accidents, police sitings and more.
Scanner Pro. A very useful document scanner that, when combined with uploading to Dropbox, lets me instantly scan documents and upload so that I can easily grab them on my laptop.
Point of Sale, formerly Square. The time or two a year that a client wants to pay by credit card, I use this app and the money shows up in my bank account a day or two later.
And a handful of fun, non-work apps:
Zillow. Not really a work tool, but fun to use when you're traveling to see the market value of the homes nearby.
MapMyRide. Tracks my route, distance, etc. when riding my bicycle.
Fender Tune. Keeps my guitar in tune.
Soundhound. Lets me know the name of a song when I can't pin it down. Although it's not infallible – it can't name every song!
Lose it! Tracks calories, exercise and more.
Ski Tracks. Tracks my routes and distance on the slope.
Hardware
Apple Macbook Pro. 13" early 2011. Upgraded to 16 GB RAM and a 1 TB SSD hard drive. Rarely have I had a glitch with this.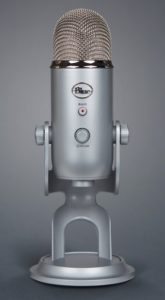 Blue Yeti USB Microphone. I switched to a USB microphone a couple of years ago when I couldn't chase down an annoying hum in my analog board. Works great and is very reasonably priced. You see it in all of my podcast videos.
iPhone 6s, 128 GB of storage. Solid piece of gear through and through. Music, email, camera, you name it. It's all there.
Sony MDR-V6 dynamic stereo headphones. I've used these headphones for more than twenty years, since my radio days. Still use them when recording and volunteering at the local community radio station. It's my second pair.
SkullCandy ear buds. While I tend to go through a pair of these about every year, they deliver much better sound and comfort than the earphones that come with the iPhone.
Keen messenger bag. The model shown in the link isn't the one I have, but very similar. Great for carrying laptop, books, lunch, whatever.
Am I missing anything? What are you using? Leave a comment!