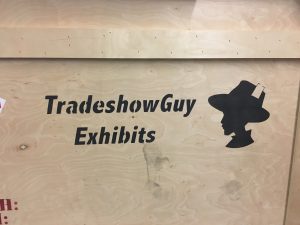 When it comes to tradeshow shipping, you certainly have options. And, like all of the aspects of tradeshow marketing, there are many moving parts. No pun intended.
For shipping, to make it easy, rely on great tips from the Freight Pros, who remind you that it all starts with the BOL (Bill of Lading). Article author Logan Theissen discusses other items such as freight class, freight carrier, delivery windows and the dicey ways of getting in and out of busy tradeshow shipping docks.
Shipping in advance to the show warehouse is more economical than shipping direct to the show, but it does mean that you'll need to ship a week or more sooner than you would when shipping direct to the show. Shipping direct is more of a juggling act, as you have to find a shipper that can deliver at a specified time to a specified location. If you are shipping smaller items, such as product samples or replacement graphics, shipping to yourself or another employee at your hotel may be a good option, so that you can simply carry the items onto the show floor.
Another few tips courtesy of My Display Source: always keep records – tracking numbers, phone numbers of shippers and contacts, BOLs, etc. Take photos of all of the paperwork at the show. And if something shows up damaged, photos are a necessity. Before you go to the show, know what is shipping back and how, and what, if anything, is to be discarded. And don't make the mistake of shipping items to the show that you won't use. You're paying for it, make sure you don't ship extraneous items.
What about another aspect of shipping, such as the choice between a large custom wooden crate, or smaller molded plastic shipping cases? Many clients we work with at TradeshowGuy Exhibits have exhibits that are of a size (10×10, 10×20) that frankly could go either way. A modest 10×10 can be shipped in a custom-jigged, padded wooden crate. Exhibits last a long time when shipped with that kind of protection. But the same 10×10 that ships in a single custom crate may take three, four, or even five roto-molded plastic cases.
There is a huge variety of cases and crates to choose from, and it's an important thing to consider when purchasing a new exhibit. Some clients like to have a custom crate, and have additional space built in so that they can include sample products and other essential items for your tradeshow tool kit.
Some clients prefer not to have to deal with freight companies or shipping docks and fork lifts, and opt for the smaller plastic cases. Some cases double as counters and can be branded or modified with printed wraps as well.
When making that choice between cases or crates, talk to your exhibit house. Do they provide custom-cut die-cut foam packaging to protect all pieces during shipping, or do they just wrap things in plastic or bubble wrap and toss it into the case? It makes a difference, so be sure to ask!
For a closer look at a few of the various types of shipping containers, browse this gallery: