I'm a reader and have been since an early age. I grew up on comic books, the National Lampoon and Mad Magazine, and then as a teenager moved into science fiction. Favorites included Robert Heinlein, Philip K. Dick, Isaac Asimov, Poul Anderson, Harlan Ellison and many others. Nowadays I tend towards Lee Child's Jack Reacher series, Michael Connelly's Harry Bosch series. Very little science fiction, although late last year I did read William Gibson's Pattern Recognition. Not really science fiction, but good. Not his best, but enjoyable. I should have probably included it in this round-up photo below, but hey, it didn't make it!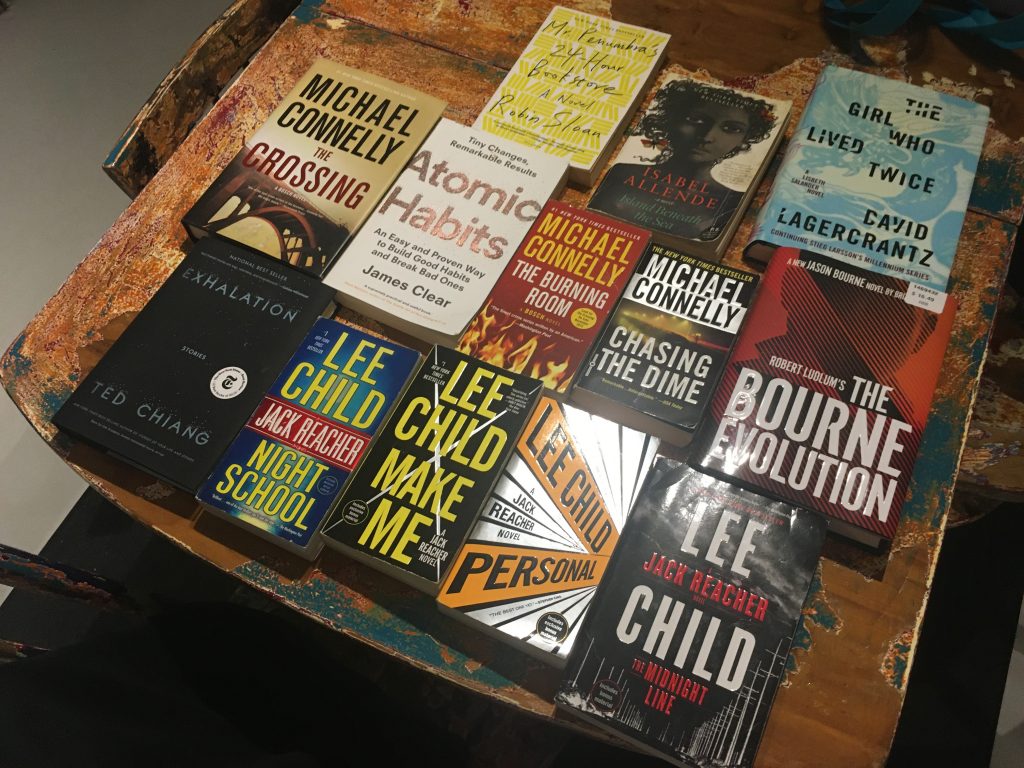 The books in the photo include:
Michael Connelly's The Crossing, The Burning Room, and Chasing the Dime. I have about five or so left in the series, which now stands at more than two dozen, and then I'm caught up with Harry Bosch. The TV series on Amazon does a stellar job of portraying the stories and the characters. The books are straightforward murder mysteries and Harry Bosch is well-painted on the pages.
Lee Child has over two dozen Jack Reacher novels, and I have just a few left before I wrap up the series. He's retiring from writing the Reacher novels, as he's burnt out and his brother is taking over. Jack Reacher is one of the more interesting characters created of late, to my way of looking at things. Retired military investigator, a huge man who loves a good fight and has no qualms about killing a bad guy if he deserves it. Night School, Make Me, Personal and Midnight Line were all quick and enjoyable reads.
Ted Chiang's Exhalation came to my attention from a review I'd read in the New York Times. It's a collection of short stories. I'm new to reading Ted, and they were all fascinating, some more so than others. The stories border in science fiction and could in fact be called science fiction, but they're so entertaining and at times otherworldly, that you hardly notice.
Robin Sloan's Mr. Penumbra's 24-Hour Bookstore was a helluva fun ride. Light reading, very well entertaining, and quick moving. It went by very quickly and I loved it.
David Lagercrantz's The Girl Who Lived Twice is another in the Lisbeth Salander series, started by Stieg Larsson's The Girl With the Dragon Tattoo which, to me, is one of the strongest female characters created in fiction in the past couple of decades. Having said that, this was a disappointing addition to the series. After I finished it, I realized that the main character, Lisbeth Salander, was only in the book maybe a third of the time. Weird.
The latest in the Robert Ludlum's Jason Bourne series, The Bourne Evolution, is from Brian Freeman. It's his first take on the character after several books by Eric Van Lustbader. I'm about 75% through, so I figure I can include in this wrap-up. Without going to deep into the plot, I found it interesting that Freeman created a mass shooting in Las Vegas (which really happened), but fictionalized the shooter and other events surrounding it. I've only read a couple of the Van Lustbader Bourne books, and it's been several years, but I remember them as being quite entertaining. This new one falls short of the bar, I think. Too many of the scenes and the plot seems to be cookie-cutter, but with Jason Bourne, I suppose that's what you get at this point.
James Clear's Atomic Habits took me a while. I couldn't get into the habit of reading it! But finally I finished it after a few false starts. Perhaps, that while it has some great ideas that can and have helped a lot of people, I found that I'm already doing a lot of things mentioned. It's a ginormous seller, having sold more than a million copies along the way. And yes, it's a very good book. You'll probably get a lot out of it, if you're willing to do what he suggests.
Finally, I'm leaving Isabel Allende's Island Beneath the Sea for last, because it's one of the best novels I've read in the last few years. It's a 40-year span intense look at the founding of Haiti and takes place during the Haiti revolution during the late 18th century and early 19th century. It's fascinating, bloody, brutal. The characters jump off the page. I'd highly recommend it. It moves pretty quickly, even though at times the prose gets a little thick as it dives into the context of the times and how the characters grow and change.
To me, that seems like a lot of books. But. My wife, who was laid off for nearly four months thanks to the COVID-19, did a lot of reading and told me a little while ago that she's read 30 books so far this year. Thirty! Very little of it was fiction. Most are current historical releases that focus on black and women's history and political impact. I wish I could find time to read all of them, they all look good!
What are you reading?