Yeah, it's only June but somehow I've managed to get through two dozen books since we ticked over into 2021. I tend to read mostly fiction, but now and then I'll make it through a nonfiction work that was worth the time. So let me start with one of the two nonfiction books I've read this year.
The Wim Hof Method, Wim Hof. Suggested by a tradeshow colleague several months ago, I picked it up and let it sit on my shelf for a few months before finally getting around to it. Glad I did. Wim's story is fascinating, as is his method of deep breathing and cold immersion or cold showers as a way of improving or maintaining your health. I think my initial resistance was, 'nah, not gonna take cold showers. Not gonna happen.' Funny thing, I read the book, gave it a try, along with the daily round of deep breaths which also incorporates holding your breath, have now done those basic practices for nearly two months. I'll probably keep them up because they make me feel good and they're easy to do. I'm up to 2-3 minutes of cold water showers at the end of a regular shower, and I've managed to hold my breath after deep oxygenation practice for up to two-and-a-half minutes, which kind of blows my mind. Highly recommended.
"Love Me Do: The Beatles Progress" by Michael Braun was originally published in the early 60s and then went out of print for some time. It's a fascinating look at the six-week 1963 tour by the Beatles written by someone who had access to the group before they became world famous. It's an unvarnished look at the Fab Four as they smoked, drank, swore and tried to make their way through a hectic music world before everything changed. If you're a Beatle fan, don't miss it.
Lots of fiction: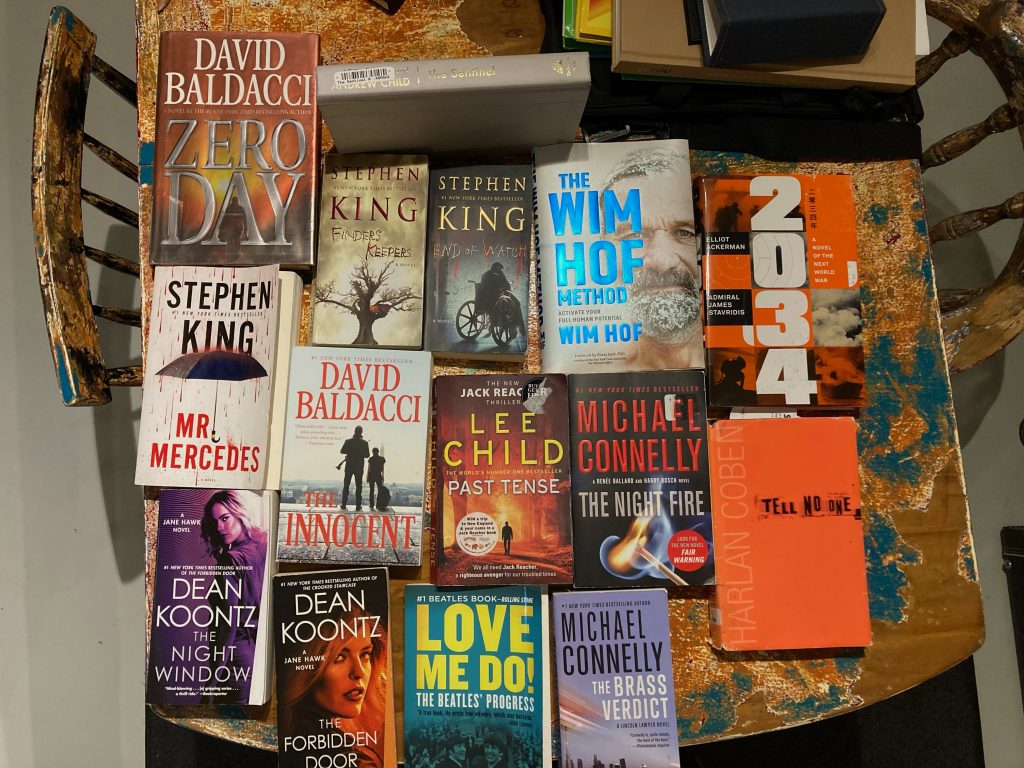 Jack Reacher by Lee Child and Andrew Child. I finished "The Sentinel" a couple of months ago. Last I checked, it's the most recent book, number 25, in the series. Written by Lee Child and his younger brother, who is planning to take over the franchise character, it's a well-done potboiler in the same vein as the others.
"The Night Fire," by Michael Connelly is a Harry Bosch / Renee Ballard detective book. I'm nearing the end of this series as well, although Connelly is so prolific with his main characters – Bosch, Renee Ballard and Mickey Haller, Jack McEvoy , Terry McCaleb and more – that it's hard to keep up. He's a good and enjoyable writer.
David Baldacci's "The Innocent" and "Zero Day." Thrillers that keep you turning the pages, mostly in the legal or suspense world. He wrote "Absolute Power," published in 1996 that was turned into a Clint Eastwood movie, which kicked his writing career into high gear. I've only read these two books by Baldacci and look forward to reading more.
Stephen King's "Mr. Mercedes" trilogy, which includes "Finders Keepers" and "End of Watch." Just wrapped up the last book this week and am quite in awe of how imaginative of a storyteller King is. He burrows into characters' psyches more effectively than most writers, which makes them good page-turners as well. After viewing the two seasons of the TV series based on "Mr. Mercedes," I decided to read the trilogy. Glad I did, really enjoyed them.
Dean Koontz is another prolific writer with so many books out there that it's hard to figure out which to read. I picked up one of the Jane Hawk series and ended up reading a couple of them and plan to read more. Another fascinating writer that is great at setting a scene and the inner workings of his characters. "The Night Window" and "The Forbidden Door" sizzled all the way through.
"2034: A Novel of the Next World War" was mentioned on a TV show, and I was so intrigued by the concept I picked it up. It doesn't disappoint. Written by Elliot Ackerman and Admiral James Stavridis, it portrays a future world where China and the US butt heads in cyberspace and with nukes. Not pretty, but extremely realistic and plausible that something like this could happen. Worth a read.
"Tell No One" By Harlan Coben. Picked this up at a garage sale. I've read one other book by Coben, and seen at least one or two TV series based on his books. Thriller to the max, well worth it.
I also read several Kindle books. As an Amazon Prime member, you get to choose a few Kindle books for free each month. These tend to be a little shorter and off the beaten path, so it doesn't take me long to get through them. But I've stumbled onto several well-written and worthwhile books, including the following:
"Her Last Breath" by Hillary Davidson: a fraught family is falling apart after one of the girls dies under mysterious circumstances. This brought several OMG moments. Extraordinarily well-written.
"The Girl Beneath the Sea" by Andrew Payne. One of a series of a diver cop in Florida that stumbles on the body of a young girl dumped in a waterway.
"The Eighth Sister" by Robert Dugoni. Russia vs US spy novel.
"Beneath Devil's Bridge" by Loreth Anne White. A thriller about a true crime podcaster that follows a man who two decades previously had confessed to a brutal killing. Lots of twists and surprises. Also very well written.
"True Fiction" by Lee Goldberg. An author is pursued by the FBI and criminals after his fictional scenario about crashing a plane into Waikiki actually comes about. Clever and fast-paced.
"The Tracker" by Chad Zunker. A young political 'tracker,' someone who follows a candidate and videotapes everything they do hoping to catch them in a gaffe or worse, is in the crosshairs of criminals and law enforcement after he witnesses a murder. Fun read.
"Water Memory" by Daniel Pyne. A black ops specialist happens to be vacationing on a cargo ship when it's captured by pirates. Crazy and entertaining.
 "Blame Atlas Save Atlas" by Angelo Lytle. Kind of a paranormal thriller with misfit kids at the center of a mystery. Cool little story, well done.
What have you been reading this year?