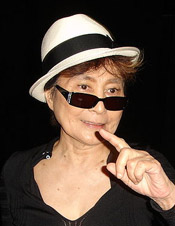 You don't have to be a fan or even like Yoko Ono to learn from her.
And I say that because most people I know that have expressed an opinion about Yoko don't have too many nice things to say about her.
"Yoko broke up the Beatles…."
"How can you stand her singing voice?"
"And that weird stuff she calls art…"
But I'll come clean: I've liked Yoko and admired her art and music since the late 60s when my older brother started buying her albums. Yes, she put out weird music. Avant-garde. Different. But there was something in there that appealed to my young sensibilities.
And I never bought the story that Yoko broke up the Beatles. They would have broken up at about the same time anyway from what I can gather. They had matured to the point as people and musically where they all had to move on. It's like getting out of college and getting on with your life. The crazy energy, the partying, the creative juices eventually all have to go in a different direction.
We looked at the marketing prowess and lessons learned from the Beatles awhile back on this blog, and thought it might be fun to look at what we can learn from Yoko Ono.
Yoko had early training as a classical musician, was from a well-to-do family that was reduced to begging on the streets during World War II, and went on i the early 60s to collaborate with avante-garde artists such as John Cage and Ornette Coleman.
She cuts a unique figure in the world of music and art. Her early films and performance art were simple, elegant and broke a lot of the rules. But they made a simple point. The famous story about John Lennon's first meeting with Yoko went something like this: It was November 9, 1966 at Indica Gallery in London during a performance art installation by Ono. he had been enticed by the gallery's co-owner, John Dunbar (ex-husband of singer Marianne Faithfull), who had told him about a "happening" that would be taking place there, featuring a Japanese woman from New York in a black bag. As John revealed to Playboy interviewer David Sheff, this sounded to him like something to do with sex: "Artsy-fartsy orgies. Great!"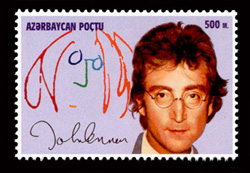 After being introduced to "the millionaire Beatle," the woman handed him a little card that said simply, "Breathe." John, although puzzled, responded politely with a quick pant. Next, his eyes settled on a ladder leading up to a canvas suspended from the ceiling, with a spyglass hanging from it on the end of a chain. Climbing to the top of the ladder, he looked through the spyglass to read a word printed in tiny letters.
"You're on this ladder — you feel like a fool, you could fall any minute — and you look through it and it just says 'YES,' " he told David Sheff in 1980. "Well, all the so-called avant-garde art at the time, and everything that was supposedly interesting, was all negative; this smash-the-piano-with-a-hammer, break-the-sculpture, boring, negative crap. It was all anti-, anti-, anti-. Anti-art, anti-establishment. And just that 'YES' made me stay in a gallery full of apples and nails, instead of just walking out saying, 'I'm not gonna buy any of this crap.'"
As a marketer, Yoko let her art do the talking. It either succeeded or failed on its merits. And it was often so unusual it generate enough comment to draw a crowd.
Once she and John became a couple, the two of them were able to use John's star power: the Toronto Bed-in after their Gibralter wedding, where John recorded 'Give Peace a Chance'; the 'War is Over (if You Want it)' poster and song campaign in 1972.
Among her many artworks of the past 30 years, Yoko flooded the city of Liverpool with banners, bags, stickers, postcards, flyers, posters and badges, with two images: one of a woman's naked breast, the other of the same woman's vulva. The piece, titled "My Mummy Was Beautiful", was dedicated to Lennon's mother, Julia, who had died when Lennon was a teenager.
On October 9, 2007 she officially lit the Imagine Peace Tower on Viðey Island in Iceland, dedicated to peace and to Lennon.
Her art and media have drawn worldwide attention. You could say it's mainly because of her association with John Lennon, but her work is considered to be very good – and spare: as David Quantick wrote for Uncut: "Yoko Ono's art came from an uncluttered place; nobody save possibly John Cage has ever used so much space, and whiteness, and silence in their work."
'Ms. Ono's well-preserved air of naïveté — and the license it gives her to say things simply and primally — has been her artistic gift since the '60s, first as a conceptual artist and then, with John Lennon's impetus, as a rocker and songwriter.' –
So what are the marketing lessons we can take away from examining Yoko's life, art and music?
Be true to yourself.
Simplicity and elegance lead the way.
Use the tools at your disposal to the best of your ability (using her celebrity to promote her favorite causes, for example).
It's a marathon, not a sprint (still going strong at 77). Persevere.
Overcome adversity in whatever form. What other choice do you have?
Draw attention to your work, not yourself.
Push your personal and creative boundaries.
Links:
Article by by Jon Pareles, New York Times
Yoko: Still walking on thin ice
Yoko Ono photos by Marcela Cataldi Cipolla