Business Name:  Mountain Rose Herbs
Person responding to questionnaire: Irene Wolansky
Title:  Marketing Director
Years in business:  22
Location:  Eugene, Oregon
Approx number of employees:  65
Website Address:  www.mountainroseherbs.com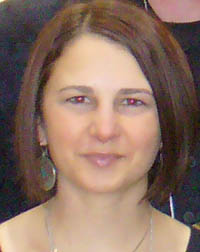 Main target market: Our target market is fairly large, and includes almost everyone!  We sell retail to the public as well as wholesale to stores, co-ops, manufacturers, resellers, etc.
Most successful marketing strategy/tactic or method: We don't believe that there has been a single successful marketing strategy for us.  Rather, we believe that it is a culmination of everything that we do which has led to our marketing success.  This includes print and web advertising, sponsorships of festivals and conferences, postcard and catalog mailings, e-newsletters, and our presence at tradeshows with our beautiful booth made by Interpretive Exhibits.
What is the best thing you get out of tradeshow marketing? We enjoy the opportunity to meet our customers and suppliers in person, make new contacts, and show people who we truly are.  For us, tradeshows are not about making sales, they are about strengthening new and existing relationships.
Biggest complaint? Our only complaints are sore feet at the end of the day and greedy attendees who grab everything in sight including our display materials!
Favorite Quote: Attendees often tell us that our booth is one of their favorite at conferences, but our favorite is when they tell us that they "find our booth an oasis in the middle of a hectic show." People comment that it feels so relaxing and inviting at our booth that they don't want to leave!  We let them stay as long as they would like.
Biggest Lesson Learned: Find a reliable company that you trust to set up your booth.  Interpretive Exhibits assisted us with this, and we are forever grateful to them.  We will never hire show labor again!
Most extreme thing you ever did?  Business or personal?
The most extreme thing that Mountain Rose Herbs has done was eradicating conventional products entirely from our product line.  We offer over 3,000 products, so this was no small task!
On a personal level I can't think of a single most extreme thing that I have done, but it might be backpacking alone throughout Southeast Asia.  I spent 6 months in Thailand, Laos, Cambodia, and Malaysia, and it was one of the most rewarding and amazing things that I have ever done.
All-time favorite movie? I don't watch too many movies, but "Office Space" is definitely one of my all-time favorites.