Guest Article by Emilie Barta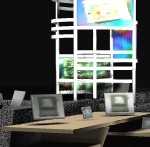 So you have purchased your booth space, had your exhibit house design and build your exhibit, contracted all of your services, booked your airline flights and hotel rooms, hired your Professional Trade Show Presenter and other trade show talent, and chosen which of your employees are going to staff your booth. So now all you have to do is show up at the convention center…right? WRONG!!
The biggest reason that exhibitors have an unsuccessful show is because they just stand around and expect attendees to come to them. Trade shows have a lot going on in a condensed space, and you need to attract attendees to your booth. Here are some simple tips for a successful show:
A SMILE and a POSITIVE ATTITUDE are the best accessories you can put on in the morning!
Make sure to do PRE-SHOW MARKETING to drive attendees to your booth. The walk-bys are the icing on the cake.
You must give attendees a REASON to walk into your booth, otherwise they will just walk on by.
Make sure your PURPOSE for being at the trade show is crystal clear so that no attendee gets confused by your message.
You must WELCOME attendees into your booth and be a perfect "party host" once they are inside. It is all about the first impression!
Maintain your ENERGY LEVEL throughout the day, no matter how tired or hungry you are.
STAFF YOUR BOOTH with the employees who recognize the value of trade shows, shows up on time, will not wander away from the booth, knows the answers to the questions the attendees will ask, maintains a put-together appearance, and are not prone to losing business cards or information that will be needed back at the office.
Make sure that the staff of your booth has a UNIFORM APPEARANCE so that it is obvious to the attendees who works for your company and can answer their questions.
Don't think that you can do it all, because you can't. Make sure to OUTSOURCE functions to companies who represent your company image.
LISTEN to the attendees and give them exactly what they are looking for in the moment. Upselling can happen once the show is over and a relationship has been established.
Have a designated method for getting HOT LEADS to the appropriate sales person both on the show floor at back at the office. Never let an opportunity slip away due to disorganization.
Remember that you are REPRESENTING YOUR COMPANY from the minute you get to the airport in your home city to the minute you are in your car driving home. Many relationships have been started on airplanes or shuttles, in the cafeteria, or at dinner. And many more relationships have been destroyed during these same times.
And most importantly, HAVE FUN!!
Some of these tips may sound obvious, but I can't tell you how many times I approach a booth only to find one employee present, sitting with his/her back to the aisle, with a scowl on their face, hunched over their computer. These are the exhibitors that complain that they had an unsuccessful show and give trade shows a bad name.
Have a successful show!!
Presenter, Program Host, Narrator, Actress, Voiceover Artist
web: www.emiliebarta.com
blog: www.emiliebarta.blogspot.com
facebook: www.facebook.com/pages/Emilie-Barta
twitter: www.twitter.com/EmilieBarta