Guest article by Mel White of Classic Exhibits
Perhaps no term is more hyped and less understood in the exhibit industry than "Hybrid."  System manufacturers and custom builders are describing their latest and greatest designs as portable hybrids, modular, hybrids, even custom hybrids. Why the emphasis on this term? The answer is simple:  value. More than ever, exhibitors are demanding displays that do everything – assemble quickly, look custom, ship light, and reconfigure. Just a few years ago that was impossible, but not now.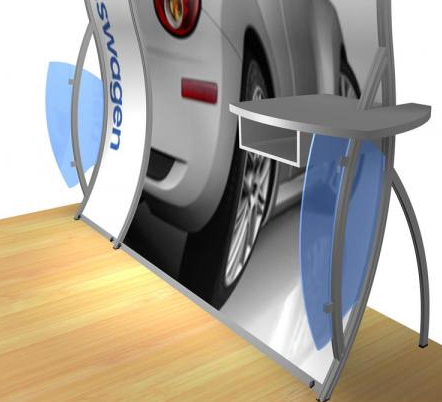 If you've spent any time walking a trade show recently, you've noticed the profusion of aluminum and tension fabric graphics. In a nutshell, those are the building blocks of hybrid displays. Aluminum is attractive, structural, and lightweight. Tension fabric is vibrant, durable, and cost-effective. Together they serve as the creative backbone for displays priced from $4,000 to $250,000.
But what makes them hybrids? Putting them in context with traditional displays will make the explanation clearer. For the past 30 years, the world of portable or modular displays has been dominated by pop ups, panel displays, and modular laminate exhibits. These are "systems" with defined configurations, components, and accessories. Custom exhibits, on the other hand, have offered endless design possibilities since they were built primarily from wood.
Hybrids merge those two worlds and are less systems than concepts. Hybrids start with aluminum extrusion (such as Octonorm or MODUL) and tension fabric. Beyond that, the design can be anything and can include anything. There are portable hybrids consisting of an aluminum extrusion frame and tension fabric graphics, which pack in roto-molded wheeled cases. There are modular hybrids which add modular laminate components and pack in roto-molded tubs or small crates. And there are custom hybrids which combine extrusion with just about anything else – metal, wood, plex, glass, and sometimes even portable or modular systems. As with all custom exhibits, it comes down to whatever fulfills the design and marketing requirements for the client.
Hybrids may not be the ideal for solution for everyone. For many exhibitors, a basic pop up or full custom makes more sense for their exhibit marketing goals. However, hybrid exhibits are here to stay until there is a replacement the versatility of aluminum extrusions and the bold impact of tension fabric graphics.
Mel White, VP of Marketing and Business Development, Classic Exhibits