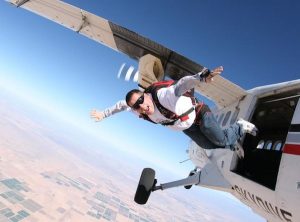 Now that I'm 95% finished with Peter Shankman's "Can We Do That!?" I can safely tell you it's one of the most inspirational business-promotion books I've ever found.
Peter, if you're not familiar with him, is the founder of The Geek Factory PR Agency in New York City in the 90s. He's since sold the business (but kept the naming rights) and runs Help A Reporter, the largest free source repository for journalists anywhere in the world, where anyone can sign up to be a source on any topic and get quoted in major media.
Now, to the book: a brisk read; I'm a little more than a week into it and have just the last chapter.
The most useful part of the book to me was to lift the hood on a handful of major successful promotions Peter and the Geek Factory pulled off, including the great skydiving adventure, the knitting shop promotion and his 30th birthday party in 2002 (among others).
For someone who's never done those types of promotions from scratch, it's great to see how they were hatched and ultimately executed.
Yes, this fun-to-read book gave me a ton of ideas, and I'm still making notes to incorporate some of those ideas into current promotions that I have on the drawing board.
A critical section of the book looks closely at how to deal with a PR crisis: what to say (and what NOT to say) to the media, how to keep the company employees in the loops, how to create a list of contact information for the key players in any company (no, it's not just the company management).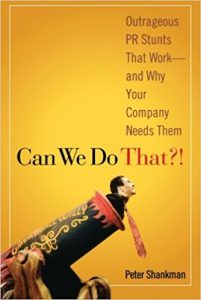 In other words, when you get that 3 am phone call – which I agree with Peter are NEVER good – you know what to do, step-by-step to avoid becoming the latest company to get chewed up by media…who after all, are just following a story.
I'm almost sorry I will finish the book later today. Guess I'll have to keep it handy for reference. Yup, I give this valuable little book 4 stars. Add it to your library soon:
Can We Do That?! Outrageous PR Stunts That Work--And Why Your Company Needs Them
---
UPDATE August 2017: I've had the pleasure to be a member of Peter Shankman's Master Mind Group "Shankminds" for the past several months. It's an active group of over a hundred people who either are their own boss, or are working towards that end. Worth checking out.