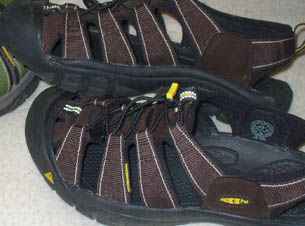 I first learned about Keen Shoes in mid-2008. I had just made a new friend Karrie and noticed she was wearing these pretty cool shoe that were half-sandals and half-regular shoes with a protective toe – more than an average sandal but with air circulation like a sandal. She bragged about how comfortable they were, how she could wear them hiking or in the water or for daily wandering around and they were always comfortable and versatile.
In November of that year Karrie and I were bouncing through the aisles and racks at REI in northwest Portland. I saw a pair of Keens on sale and decided to try 'em on. After wearing them around the store for fifteen minutes I was sold. Over the next several months they got a lot of wear. And comments.
I was standing in line at a grocery store and a guy looks at my feet and said "My Keens are the most comfortable shoes I've ever worn."
"Mine, too!" I agreed.
His were a different style, one I had never seen before. But damn nice.
Before I get to the Keen customer service tale, let me tell you about my encounter with the Keen crew in person.
In July of 2009 I attended the Outdoor Retailer Summer Market in Salt Lake City. In the prep and run-up to the show I noticed that Keen was exhibiting there. I made a note to try and contact their tradeshow manager Dave. After all, I am in the tradeshow sales end of things and wanted to at least make a connection. Keep in mind that in the tradeshow industry, the sales cycle is very long: 5 – 7 years, as long or longer than the sales cycles for car-buying for most people. Companies don't buy a new custom tradeshow booth (which is my task to try and sell) every year – maybe every five years, maybe every seven. Some companies I've worked with haven't purchased a new tradeshow booth for almost twenty years. And they buy from people they like and know. So my goal with meeting the tradeshow manager at Keen was just to introduce myself and ask a few questions and see what might eventually unfold.
The show was an illuminating experience and yes I did meet a lot of people. But not Dave. I stopped by the booth several times, but he was in and out. One of the helpful staff pointed him out to me once, so I at least knew what he looked like. But I couldn't catch up with him.
Keen's presence at the show was extremely high-level: a creative booth built by Atmosphere of Salt Lake City using lots of recycled or recyclable materials; the promotions were engaging and creative and the staff always helpful.
I was sold on Keen and became a big fan, even if they might never become a customer. I must have told four or five dozen people about my Keen shoes and how much I loved 'em.
After the show and back in Salem (Keen's HQ is just up the road in Portland, btw), I blogged about the show and mentioned Keen's Hybrid Life promotion.
Next month – August – I was pulling on my Keens and the loop on my left foot – the one you stick your finger through to pull the shoe on – ripped.
I was aghast! The Keen shoe was not infallible! Here I thought they were perfect.
But no. Since I was a follower of Keen Shoes on Twitter I posted a Tweet about the loop tear:

Having heard of dozens of stories of how companies were using Twitter to respond to customer service request, I somehow assumed that I'd get a nice prompt reply.
Didn't happen. My tweet vanished into the depths of cyberspace.
I forgot about it. Well, except when I was pulling on my Keens with the ripped loop!
Fast-forward to late December 2009. It finally dawned on me that I might get a response if I actually went to Keen's website and contacted customer service. One of those palm-to-the-forehead moments. By now I felt there was nothing to lose: if there was any warranty it might cover a small repair, and if not – well, I tried.
In other words, I had pretty low expectations.
But I did get a quick response to my e-mail which outlined the Keen warranty. First, the claim had to have been made within a year of purchase.
At that point I didn't even know the purchase date for sure, but thought it was more than a year back. Since the purchase was made on Karrie's REI membership, I asked her if she could get that information – which she eventually did. And yes, it had been about 14 months since I purchased the Keens. So any claim at this point was moot.
But again – figuring I had nothing to lose – I tracked down the tweet I had send in August, took a quick screen shot of it (which included the date) and passed that back to Keen.
Shortly I received an e-mail which apologized for the lack of response to my earlier tweet. In fact, they had agreed that if I met the other warranty requirements (send photo, receipt, etc.) they would honor the warranty – because I had in fact contacted them – on Twitter – but they had failed to respond.
So I sent photos, copy of the email receipt from REI, etc. and waited.
No response for 2 – 3 weeks, so I sent another e-mail asking if they had received the photos and other documentation.
'Yup' came the reply, 'your shoes are shipping in five days.'
Wow. Amazing, I thought, for them to go a little above and beyond what most companies would do and send me a replacement pair of shoes, even though my only initial communication was a single tweet.
Now that's Customer Service.
Dave and I still haven't met or talked even though I've tried a handful of times. But I'm sure we will and the first thing I'll do is tell him that the company's shoes are great but the Customer Service is even better.