When I connected with author Mike O'Neil a few weeks back he asked me to connect with him on LinkedIn. I soon learned that he does this with everybody.
"All right," said Mike, "before you accept the inviation, go to your home page on LinkedIn. Now, click on 'Contacts' and then 'Network Statistics.' Look at what you've got in your connections list."
I did. It looked like this: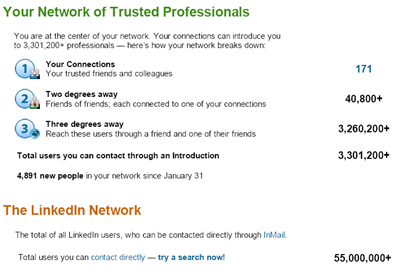 "Now, go ahead and accept my invitation. Then wait a few moments and refresh your page."
So I did. It looked like this: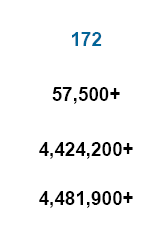 Given that Mike has 27,000+ connections on LinkedIn, it was easy to see why my network statistics took a huge jump. Shortly after, I connected with Lori Ruff, Mike's co-author on 'Rock The World with Your Online Presence,' a book dedicated solely to, uh, pimping out your LinkedIn profile.
Later that day I added a connection to Lori Ruff, co-author of the 'Rock the World' book:

I mean, really jazzing it up so that you can be FOUND and recognized for what you do and what you're best at.
So now that I've read the book and am starting to implement a few of the ideas for the profile, I am seeing the network grow and seeing more people finding me. I get responses and e-mails to responses on questions posted at discussions, for instance.
In a sense, the book is too good. It has so much usable ideas in it geared directly toward improving your LinkedIn profile that it can be overwhelming. That was my first sense while reading the book. My second sense is that the amount of things I can do and people I can connect with just by making a knockout LinkedIn profile is amazing.
When you read the book, use it. Go over your profile with a fine-tooth comb and make the adjustments and revisions in your profile that Mike and Lori suggest. See what happens. My guess is you'll start to see how LinkedIn can powerfully impact your online networking, whether for new business leads, job leads, or other networking connections.
Get the book. You'll be glad you did:
Rock The World with your Online Presence: Your Ticket to a Multi-Platinum LinkedIn Profile (Volume 1)