Tradeshow staff training is often seen as the 'missing gap' between coming away from a tradeshow with an assortment of grungy leads and a stack of well-defined leads.
But experience has shown that most companies spent little to no money actually training their staff to do the right things at a show to accomplish those goal-gathering leads.
So I thought it might be a good thing to jot down a list of five – just five, that's all – things that you should teach your tradeshow staff before the next show.
1. Teach your staff which products and services will be highlighted at the show. If you have a larger booth, note on a floor map where the products/services will be handled or discussed with the visitors, along with who the subject matter experts might be for those items. In this way your staff can handle inquires and direct the visitor to the right area or find the right answer to those questions.
2. Teach your staff to quickly and efficiently qualify and disqualify visitors. If the visitor is NOT a prospect, the sooner your staff member disengages with them and moves on to the next visitor, the more efficient they'll be at gathering leads. This means asking the right questions, noting the answers, and asking correct follow-up questions that determine the level of interest and who and how to follow up with that visitors.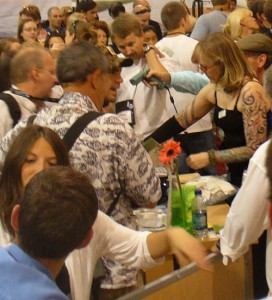 3. Teach your staff how to properly process a lead. If you have a lead form, have them practice filling it out. If you are using a badge scanner at the show, practice on it before the show starts. If there are specific questions that need to be asked, have them rehearse the questions.
4. Inform your staff the overall objective(s), goals and reasons for being at the show. If they understand the '30,000 foot view' of why the company is at this show, they'll have a better grasp of why those goals are important.
5. Let your staff know how important they are to the success of the tradeshow. Explain why they were chosen to represent the company, that they are the 'front lines' and the face of the company. Anything they do will reflect on visitors' impressions of the company. Little things go a long way. Small things like smiles and politeness standard for many companies…but when you remind your staff how important those things really are (and how noticeable if you forget), it's more likely they'll remember to wear a smile and be polite all the time.
Is there anything you teach your staff that is missing in this list?