Guest post by Chris A. Harmen
When it comes to standing out among all of the other trade show booths, having something that catches visitors' attention is key. At trade events, attendees don't have time to visit each and every booth. They are there on a mission – to seek out the best of the best and give their business to the companies they feel match their organizations' goals and needs. Some businesses may carry a highly superior product or service as compared to most of their competitors, but they simply do not have the attention-getting gimmick to attract business. Make sure your company does not fall into this category by choosing one of the many exciting ways to catch the attention of attendees at trade show booths.
Entice Trade Show Booths' Visitors With Giveaways
One of the simplest ways to attract people to your trade show exhibits is to offer something free. Everyone likes the prospect of free things, and the bigger the better. If your company has the budget for it, offer something like a couple of nights free at a luxury resort. If you do not quite have the financial capability to offer something that glamorous, consider a free visit to a day spa or massage parlor, or something as simple as a free meal at a nearby restaurant – maybe one that offers or utilizes your company's products or services. For smaller companies, even a bowl of candy will bring people into your booth. Position the candy display a little ways into the trade show booths, so it is harder for visitors to just grab the candy and keep walking.
Demonstrations And Technology
There are many basic ideas that can be overlooked when trying to attract and retain potential clients. Product demonstrations at trade show exhibits are always a great way to show off your product and build up a crowd. Consider wearing a microphone with a small speaker to really draw attention.
Make use of technology like internet access, lights, a DVD player/projection screen, or even lasers. Display your company's professionally designed website in the background, and use spotlights, like colored, moving ones, to draw attention to areas of your booth. If your business has a workshop video or DVD demonstrating what you do, have it play in the background. Lasers can flicker in the background to make your trade show booths seem exciting and tech-savvy.
Hire Show Stoppers And Stay Friendly
Again, if your company has the budget for it, hire whoever you can who will attract attention to your exhibits. Celebrities, athletes, musicians, and comics are all options. Clowns on stilts, jugglers, celebrity look-a-likes, and even attractive models with marketing backgrounds can help bring over potential clients.
Even your own sales staff and booth exhibitors can be showstoppers if trained correctly. Be sure to project energy at all times. Have a couple people manning the booth, so if someone gets tired they can switch positions. Remember to smile and mingle with the crowd. Don't just remain in the booth's background.
By enticing attendees with giveaways, demonstrations, technology, and special guests who may stop visitors in their tracks, you will see more traffic and, consequently, more sales after trade show exhibits.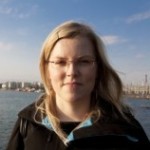 Chris Harmen writes for the leading provider of trade show exhibits Canada Skyline. They offer professional consulting and advice as well as a complete line of Canada trade show booths.
photo credit: AskDaveTaylor