Guest post by Danny Jessen
Being involved in the retail and trade show display business and seeing pull up banners go out to customers on a daily basis, I think I have a  good feel of what makes an effective banner design. And when you consider that the artwork and graphics are the very element that will "make or break" your banner display, you may want to read on!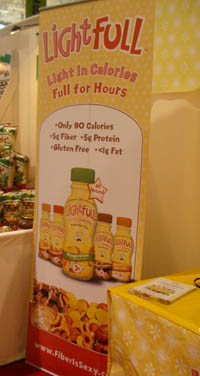 Colours are King
Though you may feel limited to a particular colour palette that compliments your corporate colours and logo, great results can be achieved using colours that create strong contrasts. Whether its light on dark, or dark on light, or colours at the opposite ends of the colour spectrum, contrasting colours are very effective at catching the viewer's eye. So be bold in your use of colour, but don't over-do it. Try using just 1, 2 or 3 strong, contrasting colours – any more and you'll start losing impact.
Artwork: Sometimes Less is More
It can be tempting to try and get the most value from your trade show banner by loading it with images and artwork. Despite the temptation, I find that the vast majority of the time, one large image is more effective that a number of smaller ones. Multiple images act to dilute the visual impact of your banner as each image competes for the viewers' attention. On the other hand, having one large, primary image creates a strong focal point that is very effective in the kind of open trade show or retail environments in which banner stands tend to be used.
Keep it Short and Keep it Sweet
In both trade show and retail environments the key function of a banner's design is to grab the attention of the people passing your store or exhibition stand and entice them to approach. Bearing in mind that you may have just seconds to achieve this, large amounts of written information are most often counter productive. Keep your message short and simple by using large text, bullet points and images where possible. A clear "call to action" can be effective in having people approach, upon which a staff member, some printed material, or both can leave them with more detailed information.
I guess in summary, you could say that when it comes to trade show banners, simplicity is the key: Simple yet bold use of colour, clear and strong images to create a focal point, backed up with some brief written information and a "call to action".
Effective banner design is not rocket science, but unfortunately more often than not, trade show and retail banners end up being less than effective. But now all you'll need to do is follow these 3 simple rules to good banner design and you'll be sure to get the most from your next banner stand investment!
Do you have any more ideas for producing effective trade show banner designs?

About the Author:
Danny Jessen is Marketing Manager at Slimline Warehouse Australia a trade show and retail display company, specialising in Pull Up Banners.