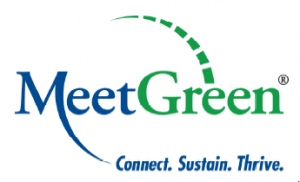 All face-to-face meetings bring their baggage with them – including the trash and recyclables that are generated. Does the amount of cups, paper, water bottles, and more that are generated during the meetings put the meetings and events industry in a bad light? Can anything be done to substantially reduce meetings waste?
MeetGreen®, a meetings coordination company in Portland, Oregon dedicated to environmental sustainability, recently released a comprehensive report on how their work is impacting sustainability in events they are involved in. MeetGreen® works with the UN Global Compact, a global policy initiative that promotes the adoption of strategic sustainability principles into the activities of organizations. As a result, they're required to generate an annual report that focuses on sustainable business practices within the meetings attended or organized by their clients.
I spoke with MeetGreen®'s Nancy J. Zavada, CMP about the report and their work with companies. She said one of the more interesting things to come out of the report is the realization that there is a big ripple effect – "what changes can you make in the world?" Nancy says that while MeetGreen® is a small company, by helping events become greener, it can have a bigger impact on the industry and the world.
According to the report, MeetGreen says that 'as an independent sustainable event management company we are hired to assist others to manage their events, reduce their impact and improve their event-related business. As an outside consultant our role is one of manager, advisor and influencer in these projects, but not often final decision maker.'
So how well did MeetGreen® do with the year's events? Among other stats, these came to the fore:
Eliminated 774,000 water bottles from the waste stream
Saved 1653 trees
Avoided emissions equivalent to taking 300 cars off the road for a year
There are more, but I don't want to steal their thunder.
After tracking the results and compiling the report, Nancy told me that the big aha to her was 'the importance of transparency.' By showing people what you're doing and how you're doing, it creates more trust and helps the ripple effect to make more changes in the world.
The report breaks down the objectives and targets set up before the year started (which ran from August 2009 – July 2010). Goals included giving back to the community,       being accountable for their carbon footprint, ensuring the supply chain has responsible social and environmental practices and more.  Most were met or exceeded.
While the report is in essence a report on how one company's efforts are unfolding to reduce, reuse and recycle using sustainable practices, the effect is far-reaching. A list of clients and organizations that MeetGreen® worked with in 2009-2010 includes Cisco, Jack Morton, Oracle, Wallace Fund, Unitarian Universalist Association, Cascadia Group, IMEX America and many more.  The report looks at results from 48 events with over 130,000 participants in 19 destinations.