One of the most effective methods to get involved in mobile marketing is to create a QR Code and display it openly at a tradeshow. It's a somewhat familiar-looking graphic widget but not everyone knows exactly what it is or how it works.
Invented in 1994 by Toyota subsidiary Denso-Wave, the QR (Quick Response) code has graduated from a simple two-dimensional code used to track parts in vehicle manufacturing to much larger use. More and more companies are finding ways to use them in tradeshow marketing by including codes on booth graphics and handouts. One main use of the QR code seems to be to direct the viewer to a website where they are introduced to company-related information.
It's easy to include a QR Code and it makes sense for at least a couple of reasons: first, it's a great way to reduce the amount of printed material that you have to carry around and pass out. It reduces printed products that may end up on landfills or recycling bins. Secondly, the QR Code is still new enough that the use of it positions your company as a leader – or at least very sensitive to the spirit of reducing printed materials. By steering your visitor to a website to download PDFs, view videos or other material, you're seen as much 'greener' than competitors that may still be handing out pamphlets (so last century!).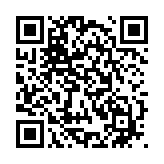 Third, it's cool looking!
In the Wikipedia entry on the QR Code, you can see that marketers are making use of the symbol in many ways: "Media where QR codes have been deployed include: billboard ads, in-store displays, event ticketing and tracking, trade-show management, business cards, print ads, contests, direct mail campaigns, websites, email marketing, and couponing just to name a few. QR codes are of particular interest to marketers, giving them the "ability to measure response rates with a high degree of precision"[20] allowing for easier ROI (return on investment) calculation, thus helping justify spending on marketing budgets."
If you want to create a QR Code, there's no cost. Even though Denso-Wave owns the patent, they are choosing not to enforce the patent rights. Search online for 'create QR code generator' and you'll find several applications that allow you to create your own code in a few seconds.
Once the code is created, you can insert it in any marketing materials you may have.
To read the phone, the most common way is with a camera phone with an app or the software that can decode it.
To create a code, there are limits to the amount of text you're able to insert:
QR Code data capacity:
Numeric only Max. 7,089 characters
Alphanumeric Max. 4,296 characters
Binary (8 bits) Max. 2,953 bytes
There are more creative uses of the QR code being developed. Businesses are linking to discount coupons, games, treasure hunt clues, mail-in rebates and more. Check here, here and here.
And if you want to see what a social media crowd thinks of the QR code and grab some more ideas, check this Facebook page.