Every year or so I try and get a handle on how big the internet is. The numbers are staggering. So big that it's hard to fathom some of them. But it's enlightening, nonetheless, to see all of the facts and figures.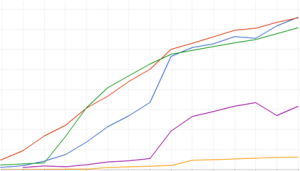 One of the first places I started was at InternetWorldStats. According to their numbers, Facebook had 518 million users as of August 2010, the most recent number on this website.
Checking Google I came across an interactive chart that shows "Internet users as percentage of population" and gives you a list of countries so you're able to compare them. In this chart, over 75% of the US are on the internet.
I'm also curious to see how much internet traffic is made up email. In 2010, there were 107 TRILLION emails sent. The Royal Pingdom also has a list of other current stats, including the fact that almost 9 of 10 emails were spam. Yikes!
Checking Facebook's own stats is an interesting learning experience. Among other things, we find that the average user creates 90 pieces of content each month – that's an average of three a day!
The size of the world wide web is demonstrated in real-time with WorldWideWebSize.com, which tracks the number of web pages indexed by various search engines.
And finally, this Mashable article looks at the number of videos that were uploaded and viewed on YouTube in 2010.
Amazing stuff. The video numbers continue to grow. Whether or not you're finding a way to work video into your marketing mix at tradeshows or otherwise, you can't help but admit that your audience is consuming online video in a big way.