…in which our intrepid reporter takes a stroll through a number of blogs and news outlets. And takes a couple of the companies to task for, well, various things…
Alexis Exhibits details a number of ways tradeshows will benefit from using iPads, including:
videos and photos
lead retrival and demos
attendee schedules
and more…
As an aside, I was disappointed in the Alexis website for one BIG reason: they only list a toll-free number and general e-mail but NO other contact information. Who are these people? Where are they? Why the mystery?
Tradeshowfeed, courtesy of Rogers Exhibits, lists several ways to use the iPad at a tradeshow:
incorporating multimedia
interactive demos
agendas, one-to-one appointments, and personalized agendas
way-finding
and more…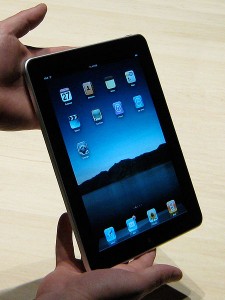 The Tradeshowfeed blog is actually a nice enough blog with useful information and a good look, but seems pretty inactive. However, when you click the 'Latest" link, the four most recent posts are from Feb 8, 2011, November, 2010; October, 2010 and August of 2010. Uhm, that's barely enough to fog a mirror, folks.
Eric Lukazewski's "Tradeshow Insight" blogs is one of the more active and interesting tradeshow blogs that you'll find and this post lists 5 iPad apps that may make your tradeshow world a little easier.
"Sullen iPad Catalog App Launches At Trade Shows" details a custom catalog that is being used on tradeshow floors to demo an art-driven lifestayle apparel brand. Nicely done.
Alexis Exhibits covers some of the same ground as their other iPad post, but still offers a batch of good ideas for using iPads at tradeshows:
Personal demos
Portability
Interactivity
Create a hands-on kiosk
and more…
The Monetate Market Optimization Blog offers a review of their experience using the iPad to demo their marketing software at a recent tradeshow. One thing that they like was the personal interaction that the iPad offers over a larger flat screen.
iPad photo (CC-BY-SA) by Glenn Fleishman from Seattle, Washington