I keep hearing how SCVNGR is being used to engage tradeshow attendees with pics, check-ins and other game activities. So let's take a look at how it's being done in a tradeshow or event setting.
First, what the heck is SCVNGR?
SCVNGR is a game. Playing is simple: Go places. Have fun and share with your friends. Check-in, snap pics, do the social check-in or try a challenge! Everywhere you go, you'll earn points and start unlocking real-world rewards at over 12,000 locations (think free ice cream!). SCVNGR makes it easy to share where you are and what you're up to with your friends on SCVNGR, Facebook and Twitter. Start playing SCVNGR by downloading our free iPhone & Android app. SCVNGR is funded by Google Ventures, Highland Capital Partners and Balderton Capital. Visit www.scvngr.com to learn more.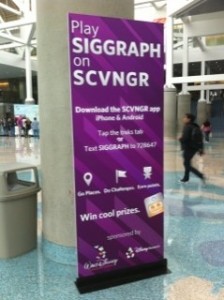 Last summer the New England chapter of Meeting Professionals International looked for a social media activity that met the needs of buyers and suppliers, encouraged networking and interaction, helped give back to the community, and is really fun, too…is such a thing even out there? Turns out it is: SCVNGR.
They set up a 90-minute scavenger hunt for the 150 attendees. Each venue ponied up a sponsorship fee and once the scavenger hunters arrived they were tasked with doing something. "For example, arriving at restaurant Post 390, participants had to find the private function room. There, they had to try some hors d'oeuvres. After submitting a photo to prove they'd completed the task, participants got a text message noting that the restaurant has three private function rooms."
Map Dynamics blog gives a blow-by-blow walkthrough of how to set up a SCVNGR game for your show or function.
Kodak set up a SCVNGR game at CES 2011 in Vegas earlier this year.
The International Manufacturing Technology Show used SCVNGR in Chicago last summer, and while the attendee participation was low, the time and energy required to set it up was very low. 'According to Lee Anne Orange, IMTS exhibitions special project manager, the decision to use SCVNGR is an outgrowth of the show's existing social media strategy, albeit in a less demanding exercise. "We use a couple other social media platforms like Facebook and Twitter that require a certain amount of maintenance that we have a hard enough time keeping up with," she says. "SCVNGR was appealing because it starts and ends here."'
Here's another look at the event from Successful Meetings.
Also last summer, member of SCVNGR worked the SIGGRAPH show in Los Angeles. While the article broke the daily ration of using the word 'awesome' it is a great endorsement for using SCVNGR at an event.
And finally…ya gotta love bloggers. Unlike a news reporter who feels she might have to stick with convention on describing something, here's a great example of a blogger who got all enthused about how SCVNGR worked (or might work) for them in a number of situations.