Your business page will move to the new 'timeline' appearance on March 31st, whether you're ready or not.
The biggest change is that if you have a default landing page, it will no
longer steer new visitors to the default page. Instead, all new visitors will see the same timeline. However, you can create separate tabs (landing pages) and use that link to drive traffic. It makes sense to Facebook, because now if you want to have people land on a specific page, you might buy Facebook advertising to do so.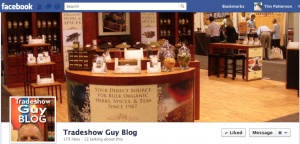 Of course, you can also create the tab/landing page, and send the link
out in emails, or via your social media platforms.
Social Media Examiner outlines the 7 ways that the timeline will impact businesses.
The list covers the main photo and profile image, highlighted and pinned posts, setting company milestones, apps, Facebook offers, insights/admin panel and advertising. If you're involved in your company's Facebook page, this short tutorial is worth your time. From my initial reading, the apps and offers (which roll out shortly) would be a great place to create something special to urge people to your tradeshow appearances and events. It'll probably take a little creativity, but there are plenty of opportunities in the new Facebook look to tie in with your event and tradeshow appearances.