How do you know when it's time for your company to invest in a new exhibit? While the answer will vary from company to company, there are a number of common factors that can help answer that question.
Is your current exhibit old? In the exhibit world, a tradeshow booth is old somewhere between 5-7 years. Now, that doesn't mean you should automatically replace your booth as soon as it hits that age, or if it's older. But an older exhibit is a sign that it might be time to consider upgrading. Of course, some companies use the same exhibit for decades. Yup, seen it happen.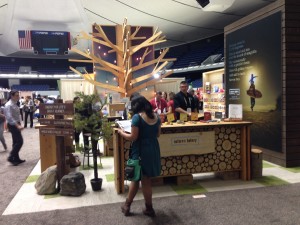 What do your main competitors' booths look like? If your company has stayed put while most of your main competitors have invested in new booth properties, it can make you look a little old and out of touch. In some industries, that's the touch of death. In others, not so much.
Has your company's exhibit needs changed significantly? One client I worked with found that their target market had matured to the point they were no longer needing to display so many products, but instead needed to assist those distributors with other things. That meant downsizing the booth to accommodate those needs. If you have new products or services that are not getting the notice they deserve, that may mean an upgrade is needed.
Has your company grown significantly? Some companies need a booth to match their market presence, which means a larger booth. It also means keeping up with the Joneses.
Is your current exhibit stretching your shipping budget because it's very heavy to ship? Shipping and drayage for wooden crates and booths can eat up a significant portion of your tradeshow marketing budget. Unless heavier materials such as wood and metal define your company's looks, it's worth considering a lighter approach. Fabric graphics, aluminum frames and structures and the like can significantly cut your shipping costs for years to come. With fabric graphics that are easily changed for different exhibiting needs, a new lightweight booth may be just what the doctor ordered.
Beyond these items, you may have another reason to put a new company tradeshow booth into place in the near future. I'd love to hear about it. Leave a comment!