If your tradeshow booth is so big you can't set it up yourself, you'll need to hire a crew for installation/dismantle, commonly known as I&D in the industry. If you have an island booth, you're much better off leaving the set up to the professionals.
Because the booth won't listen when you yell at it, "Go on, get into place, you booth you!" Sorry, maybe on Harry Potter, but not in real life.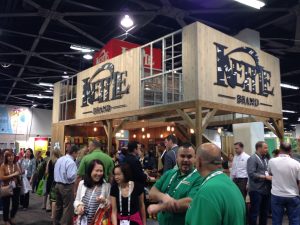 If you are going to set up your own inline or modular booth, make sure you arrive early at the event. This becomes much easier if you choose a manufacturer that designs products to be lightweight and easy to set up.
Generally you have a couple of choices for hiring: using the show services or hiring an exhibitor approved contractor that is familiar with local rules.
Some of the items that come up as you're planning your I&D include making sure that the contractor is familiar with local rules where you'll be exhibiting, making sure they have an accurate rendering (or booth set-up instructions) so they can give you an accurate estimate for installation, and any special equipment you might need for installation, such as a Genie lift, long ladders, electrical equipment and so on. If your contractor needs to buy anything you'll need to know that upfront so that you can find yard ramps for sale or buy any other equipment needed.
Knowing some of the terms of I&D is helpful as you navigate your coordination with an I&D group:
Advance rates: you can save money by booking the exhibit space ahead of time.
Advance receiving: with hundreds or thousands of exhibitors all shipping several crates to a show, there is usually a advanced receiving warehouse that gives exhibitors a window to ship booths and have them stored until it's show time.
CIF: if your shipping contract lists a CIF, this simply means that the price is inclusive of cost, insurance and freight.
Craftsperson: a skilled worker or laborer
Dead time: time when your hired workers are sitting, usually getting paid a lot, while there is nothing to do because of factors beyond their control
EAC: Exhibitor Approved Contractor – any company other than the official designated contractor. These may be companies that not only do the booth I&D, they may be involved in AV set-up, photography, plant rental and so on.
Four hour call: minimum time that a union laborer must be paid for work performed on the show floor for an exhibitor.
Straight Time (ST): work performed on the show floor during normal business hours
Overtime (OT): work performed on the show floor outside normal business house which usually included holidays and weekends
Many clients we work with at TradeshowGuy Exhibits are in the process of moving from the comfort zone of setting up an inline booth to outside the comfort zone of working with an I&D company for the setup of an island booth. Believe me, it can be a challenge if you've never done it before. But having seen many of them go through it, it's also a great growing experience for the company as their booth presence on the tradeshow floor increases and they make a bigger impact on their market.
Bigger is often better – but it takes more effort and coordination to make it happen.