Do you want to take better tradeshow exhibit photos? Or are you satisfied with quick smartphone photos of your booth?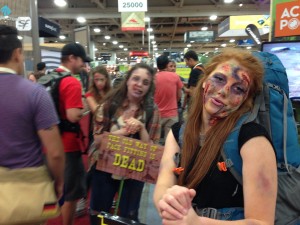 It all depends on what you want them for.
If your goal is to simply document how a booth looks at any given show, your smartphone should suffice. Point and shoot. Wait as best as you can until people are out of the way and snap your photos.
If you want something more professional, simply hire a pro. I've done it more than once, even though I've had decades of experience behind a camera. Sometimes you just need a photo at a show you're not able to attend, or you want a very high quality photo that you can submit to a magazine. That's probably reason enough to hire a photographer. If you do hire a local photographer, you can always ask for recommendations from colleagues. If that doesn't work, do a search for local photographers, reach out to a few and ask questions such as how much they charge, what's their experience shooting tradeshow exhibits, and can you schedule the session at a time of day when the show floor is not crawling with people? Preferably that would be prior to a show opening in the morning, during the time when only exhibitors are allowed. A short session should only cost two or three hundred dollars, and if you hire a local you won't have travel costs to worry about.
If you rely on your smartphone, you're still able to grab some good shots. Keep these tips in mind:
Know your goals: are you gathering exhibit photos for possible online sharing? To document the state of the booth? To show visitors and/or staffers in the booth so you can share online? All of the above?
If you're taking photos during a busy show, wait until people walk past your viewfinder. Try to get as much of the booth in your screen as possible. This may take a little moving around to look for the best angle.
If you're able, go early and take photos of the exhibit prior to the show opening. Take them from all sides, and take close-ups as well.
Hold the camera steady! Even though it looks great on your phone screen, if you're moving even a little bit, the photo may end up somewhat blurry (one of my hard-earned lessons!).
Finally, if you have editing tools on your smartphone, you can crop, filter, brighten and so on to make the photo mo' better to share!