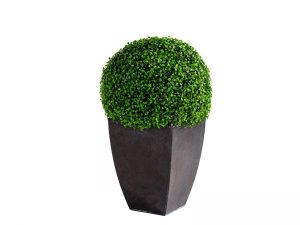 Your tradeshow exhibit may look great. It may function well. But once the show is underway, you find yourself always ducking into a storage room to grab some paperwork or literature or end up answering the same question over and over again. Or showing a demo on a laptop when you keep thinking it should be on a monitor because people are looking over your shoulder.
It could be your tradeshow exhibit might need a little add-on that will add an element that either functions, spruces it up, or shows visitors just a little more than what you had originally been thinking. Let's look at a handful of add-ons for under five hundred bucks.
iPad or Surface stand. Putting a table at the front of your exhibit often is an unspoken invitation for visitors to engage. These could be free-standing, or attachments that mount on an existing table or counter.
Literature stand. Instead of stacking sales sheets on a counter where they'll always get messed up or keeping them inside a counter where you're always reaching for them, put out a literature stand. A literature stand could also be free-standing, or it could attach to an exhibit you already have.
Easel. Easels are cool. And they're old-school. But a well-placed easel can show off a larger poster-size graphic in a slightly different way.
TV Monitor. It seems that most exhibits have a monitor of some sort, whether free-standing or mounted on a wall. Monitors up to about 50" can be had for under $500.
Table throws. Maybe it's just a small exhibit, or you've got a small table in the midst of a larger exhibit. In either case, adding a custom printed table throw is an easy call.
Turn a table in to a charging table with an add-on charging kit. Probably won't work on any table, but if it fits your table, it's a great little feature that your visitors will thank you for!
Banner Stands. Banner stands are an easy add-on and it's easy to find one that'll fit your budget of under $500.
I said 7? Let's give you one bonus:
        8 .Rental plants. No, seriously, rental plants. Like a topiary ball or a 4 ft. hedge.
---
Check out our Exhibit Design Search.