I grew up a reader. No TV, living in the mountains far away from friends. Which means that I soaked up rock and roll records, comic books, and science fiction.
In this day and age, it's harder but not impossible to find time to read. I only wish it was more! I thought it might be fun to mention several books that I've made my way through (or most of the way) in the past eight to twelve months.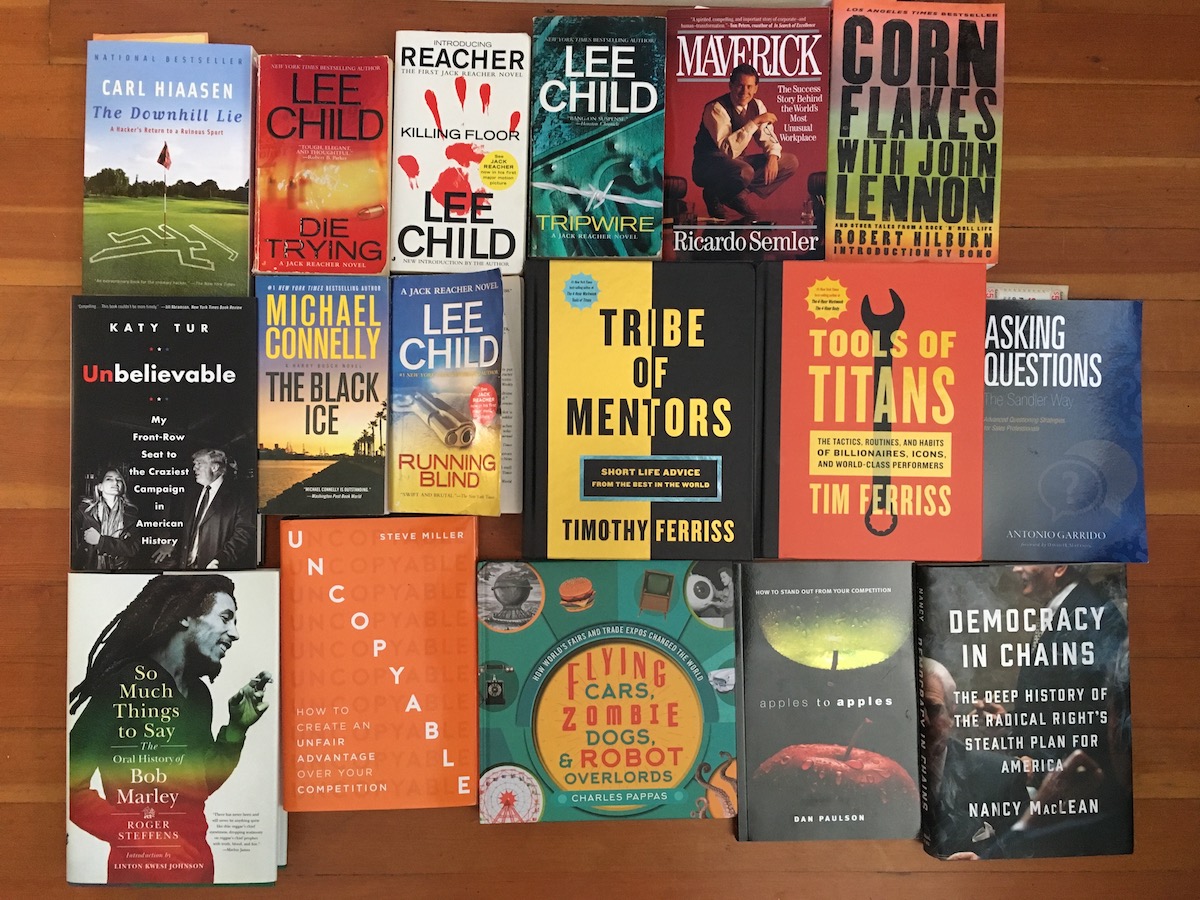 Carl Hiaason: The Downhill Lie. I'm a hack golfer. This is a hilarious book. What else would you expect from the longtime Miami Herald columnist and author of Striptease, Chomp, Sick Puppy and Bad Monkey?
Lee Child's Jack Reacher series: Once I discovered these, I wanted to start at the beginning. With some twenty-two novels out featuring Reacher, it'll take a while to make it through. But Reacher is a terrific character. A new version of the first book in the series explained how he came up with the name and the character, which set the tone for the whole series.  I have yet to see any of the Jack Reacher movies. But here's the thing: in the book, Reacher is 6' 5" and about 220 lbs. In the movies, he's played by Tom Cruise, who's 5'7" and 170 lbs. Not sure how that works!
Ricardo Semler: Maverick. I found Ricardo's story through a lengthy interview on Tim Ferriss's podcast. Fascinating story about reinventing a company. As Wikipedia puts it: "The book relates the management succession and increasingly unorthodox ethos of Semco, which grew to become one of Brazil's largest conglomerates."
Robert Hilburn: Corn Flakes With John Lennon. Hilburn was a longtime music critic with the Los Angeles Times (1975 – 2005). The book is a memoir, packed with stories that old rockers like us really appreciate. A fun and fast read.
Katy Tur: Unbelievable: My Front Row Seat to the Craziest Campaign in American History. Another memoir, in a sense, that starts with Katy being asked to cover some Trump rallies for NBC and ends up on one of the more bizarre presidential campaigns the US has ever seen. As a long-time radio guy, journalist and media employee, it's fascinating to see a lot of her thoughts on what it takes to get read to be on camera frequently. Well-written and worth a read, no matter your political stripes. And yes, a lot of it is hard to believe.
Michael Connelly: The Black Ice. Harry Bosch, the LA homicide detective, makes his first appearance in The Black Echo (1992), quickly followed by The Black Ice (1993). The character, played to a T by Titus Welliver, is now an Amazon series. Over twenty books in this series and I'm planning to alternate between Jack Reacher and Harry Bosch for fiction for the foreseeable future!.
Timothy Ferris: Tribe of Mentors and Tools of Titans. These books are not the kind that you could or would even want to sit down and read straight through. Instead, thumb through them, make notes on the pages or tag ideas using sticky notes. Both are treasure-troves of ideas, thought-starters and concrete actionable methods and tools.
Antonio Gerrido: Asking Questions. This is a Sandler Sales System book that is helpful to, well, sales people. Frankly, I'm less than half way through this but mention it because it's been very helpful up to this point. Asking the right questions for the right reasons at the right time gives any sales person a big edge.
Roger Steffens: So Much Things to Say: The Oral History of Bob Marley. Roger is a friend of mine, and I knew this book was coming several months before it hit the shelves. As a longtime Marley fan, this is the best book that tells the story from people who knew Bob. Terrific book through and through.
Steve Miller: Uncopyable: How to Create and Unfair Advantage Over Your Competition. Steve was a guest on my podcast recently and he was kind enough to send me a copy of his book. Easy and quick to read, but damn is it packed with a ton of good ideas. Get a copy.
Charles Pappas: Flying Cars, Zombie Dogs, and Robot Overlords. A very deep dive into the fascinating world of the history of large expositions, world fairs, and tradeshows. Virtually everything to eat, drink, drive or wear was introduced at a tradeshow or fair. Another podcast guest.
Dan Paulson: Apples to Apples: How to Stand Out from Your Competition. Dan was a guest of my podcast last year, and his book examines the reasons that make your company get to exponential growth. Another fun, useful and fairly quick read.
Nancy MacLean: Democracy in Chains: The Deep History of the Radical Right's Stealth Plan for America. Yes, it's totally political. Yes, it's a damn good read. Yes, it was hard to read because there was so much to absorb. Must have taken me several months to finally make it through. Regardless of your politics, I'd recommend taking a look. It's also one of the most highly-researched books I've ever read.
What are you reading these days?