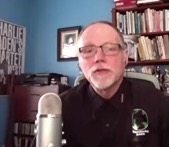 Thought I'd take a look back at all of the guests that I've had on TradeshowGuy Monday Morning Coffee since the turn of the year calendar in January. It's been quite a few in three months, and I've enjoyed sharing these conversations with you (all links open up new tabs). Have you heard/seen all of these?
January 8: Charles Pappas. Charles discusses his new book "Flying Cars, Zombie Dogs and Robot Overlords."
January 15: Steve Miller. His new book "Uncopyable" is the topic of discussion.
January 22: Jim Palmer. Another fun interview with a fun guy. Business-builder and marketing coach with a lot of great ideas.
January 29: Anders Boulanger: Anders is a professional presenter and helps clients bring in more leads through his company The Infotainers.
February 5: Stephan Murtagh:  Known in his native Dublin at The Exhibition Guy, a natural counterpart to TradeshowGuy.
February 12: Vikram Rajan of Phoneblogger.net discusses how he uses tradeshows and conferences to build his business and brand.
February 19: Ruth Railer, CTSM Silver Level. Business developer, Tradeshow Specialist, Booth Staff Educator. Yes, she knows her stuff!
February 26: Eric Rosenberg. Eric used his appearances at events, tradeshows and conferences to help build his successful blogging career in the personal finance industry.
March 5: Leslie Ungar. President of Electric Impulse. Leslie shared a lot of great ideas here.
March 12: David Feinman of Viral Ideas Marketing talks about using video on social media.
March 19: Nicky Omohundro of Little Family Adventures discusses her experiences as an official blogger at Natural Products Expo West.
March 26: Shep Hyken. As Chief Amazement Officer of Shepard Presentations, Shep's been working with companies such as AT&T, Disney, Lexus and Merrill Lynch on customer engagement.
These guests have all been great fun, entertaining and educational – and thanks to all of them! I look forward to speaking with many more people later this year on the TradeshowGuy Monday Morning Coffee! Subscribe to the audio podcast here.