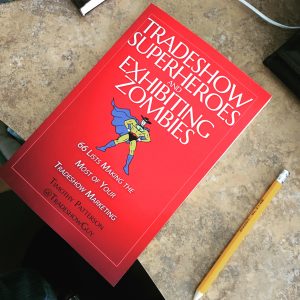 The release date of May 1, 2018 has been set for my new book, Tradeshow Superheroes and Exhibiting Zombies: 66 Lists Making the Most of Your Tradeshow Marketing. The print proof copy just came in and it looks great, and heck, I can't even find any major errors in it! Thanks to all who helped, from Jesse Stark who did the illustrations, to Mel White at Classic Exhibits (and his wife Mary) who went through the manuscript with a fine-tooth comb, to the great team at CreateSpace who are always on top of their game and to all else who lent support and good words (Ken, Andy and Anders, I'm thinking of you! And Roger too!).
So what's in the book?
Lists. A lot of them. 66 lists, in fact. Corralled in chapters such as Budgeting, Buying an Exhibit, Preshow Marketing, Postshow Follow Up and more, it's a compilation of a lot of the lists that have appeared on this very blog since 2008. Not all of them, though. Some were outdated. Most have been revised and updated. The people I've shared the manuscript with have told me that it's a fun and quick read, with lots of different topics and lists that can be digested deeply, or skimmed to pick up a tip or two or three.
I'll be creating a Thunderclap promotion to release on May 1, so watch your social media outlets for that. And if you subscribe to my Tradeshow Superheroes book update list or the TradeshowGuy Newsletter, you'll learn how to get involved in that little thing.
All in all, I'm excited! Damn! A new book!
Now I get to start figuring out what the next one should be…