Yes, these are actual conversations with clients. No, they are not from surreptitious recordings, but rather, from memory, which is probably not as accurate as I'd like. But nonetheless, these are the types of things our exhibiting clients at TradeshowGuy Exhibits are asking about.
Client A:
"We need a 10×10 pop-up. Do you have a few options that you can show us with pricing?"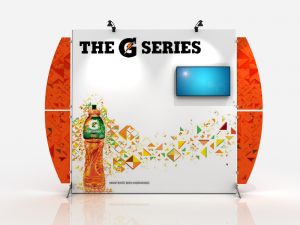 This is an easy one. I popped over to our Exhibit Design Search and assembled a gallery of about 15 10×20 exhibits, with a price range of about $1,500 to about $6,000.
A week goes by.
"Here's one we want. We need it in three weeks. Can you send art specs?"
Can do in both cases. Let her know. She placed the order and it was delivered a week ahead of schedule.
Client B:
"We're going to expand our exhibit for the upcoming Natural Products Expo. Where do we start?"
"Best thing is to schedule a conference call with our designer, so we can get your input and ask questions." We did. The call was fruitful and resulted in a handful of revised renderings of their booth, which was being expanded from a 10×20 to a 10×30.
"One more thing. We don't want to have to set up the booth this time, since we're expanding. We're kind of at our limit for doing that with the 10×20. Can you help?"
"Of course, let me get you some options and pricing for review."
They settled on the redesign and makeover of the exhibit, signed on board to have an I&D company take care of the setup and dismantle, which we coordinated. The show went off without a hitch, the owners and investors were pleased; they came home with more leads than they had expected.
Client C:
"Our carpet didn't show up," I was told by the I&D leader from the show floor. Exactly. Why not. I was in another hall on the show floor, so I hustled over to see first hand what was happening. This started a long and twisting tale of a missing carpet that had actually been delivered to the advance warehouse but failed to make it to the booth space.
"I'll speak with show services," I said.
I let the client know. "We have an issue. The carpet didn't show up and we're working to find a solution."
"Well, crap." It was probably not the exact word. "What now?"
"We're working on it. We'll figure something out!"
With a little help from our I&D rep, we were able to make the show come off with very little problem, although the carpet in question still has not turned up months later, and a claim is pending. Things do go wrong sometimes, and it's really nobody's fault. Stuff happens. What's important is how you deal with it. In my experience it is always a team effort to track down replacement items, make do with what you have or any number of other things to pull off a good experience at the show. You gotta have a good team, and you gotta work with pros.
One more. Client D.
"We would like pricing on changing out graphics for our booth for an upcoming show," said the client. "I'll send the specs," he said, which arrived shortly in an email. The show was less than two months away, so while there was indeed time to make the changes, but with that timeline it meant that no time could be wasted.
Got the pricing, sent it over. "Looks good! I'll get artwork soon!" Knowing that I'm working with a good client that has consistently worked to upgrade their exhibit, I start the process to create a new job number and add in the potential project to the job tally. A few days go by.
"Looks like this project is on hold for the time being," he writes. "We'll get to it for another show soon. Keep you posted."
Ooops! Make the changes, remove the new job number, took a breath. Don't count your chickens, etc. Hate to get ahead of yourself. Just want to make sure the client is happy.
---
This is all very typical, I'm sure, to anyone who works in the industry. Upgrades, expansions, challenges, decisions made and then changed. Part of the great game we call tradeshows.
What conversations have you had with your exhibit house lately?