Who says you can't order a tradeshow exhibit online? I've seen a ton of sites that claim it's easy. Just find the exhibit you want, upload the graphics, submit your credit card and voila' – you have an exhibit coming your way!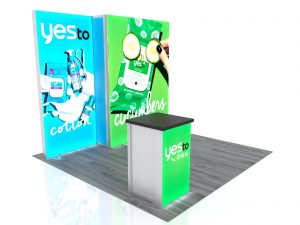 The challenge with that plan is that if it works, it only works for smaller "off-the-shelf" items, such as banner stands and pop-up back walls.
When you order online, your choices are limited. You don't know the quality of the products you're getting. You don't (usually) know where they were made. You don't often know if you're getting setup instructions in a language you can understand.
Instead, what is more likely – and a better result for both buyers and sellers – is when you find something online that you are interested in purchasing, that interest spurs a conversation. At TradeshowGuy Exhibits, we've sold a lot of exhibits to people that we haven't met in person until finally meeting at a show. And we've sold to companies without ever meeting them. In a sense, they are buying, and we are selling, online.
But a true sale is only started online. For a buyer to get exactly what they want for a custom tradeshow exhibit, a number of questions have to be answered (see our 7 Questions You'll Never Ask Your Exhibit House). Often there are conversations with a 3D exhibit designer. Maybe you'll talk with a project manager. You'll cover items such as how is it packed? how is it shipped? do you need to hire someone to setup the exhibit? and many more.
If you browse our Exhibit Design Search, you'll see a BUY button. Go ahead, take a look. When you click the BUY button, you're taken to a page that, once you fill out and click "send" starts a conversation. It takes more than a click to buy an exhibit.
So, yes, you can buy something online that is somewhat of an exhibit. But if you want a true exhibit, a custom exhibit, talk to your exhibit house.