This is a guest post from Tamara Blackburn.
Trade shows continue to be immensely popular within a variety of industrial spheres for a number of reasons from networking opportunities to celebrating the launch of a new product, or simply allowing brands and professionals to come together to pool their very best lines. They are also a bustling hive of people who need to make sure they keep their own ID and brand ID safe and secure at all times.
Shows and exhibitions, when run correctly, can be very safe environments and can effectively ward off potential criminal activity with minimal effort. However, it always pays to keep your own wits about you and to protect your own data, and there are plenty of ways in which personalization of various products can help to assure the safety of personnel and firms alike.
Access Granted ID Cards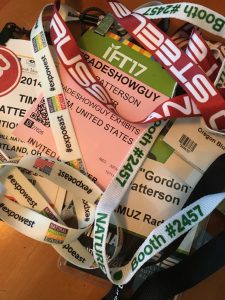 It perhaps goes without saying that the primary reason for ID cards to be issued at all is to ensure that the right people have the right access to the right areas.  That's a lot of rights and a lot of sensitive areas, so it's important to give only the correct people access cards and to make sure they are security enhanced cards.
ID cards can be manipulated if they are not secure enough and whether it's unwanted attention or potential criminal activity, it's a very good idea to make sure that personalised ID and cards are produced to a high-end standard.  Make use of ID cards which have identification on the front to prove authorisation and are near impossible to clone.  This way, not only are show staff always assured that they are handling authorised personnel, but there is no chance of such cards being copied if they are stolen or lost.
The Power of Lanyards
Lanyards are often seen as freebie material which can be used to promote certain brands and services. Beyond marketing, however, they are a great way to both protect and show off personal ID and information which can be quickly and easily checked.  Personalized lanyards and otherwise, can be used to display who you are and why you request access to events and certain areas. What's more, specifically printed lanyards with brand names and otherwise can also prove who you are working for or with – a great way to offer quick confirmation to anyone checking ID beyond the standard protocol.
Wristbands
The access wristband is a standard which has been around in several forms for many years now, and at trade shows, they are a great way for personalized information to be stored and displayed without thorough checks needing to be established on each and every occasion.  For example, a personal wristband can be printed and offered to a show guest once they have passed all initial mandatory checks and they can then simply display their bands should they wish to gain re-entry to certain rooms or areas.  This process of personalization and ID protection allows for fast verification, which is likely to be sought after at trade shows and exhibitions.
Controlling Your Access
Personalized items such as those discussed above offer plenty of power to the individual, and therefore, it is their responsibility to make sure they take care of such items at all times.  Personalized ID can help improve security as it essentially makes sure that each individual takes responsibility for their own data. It can help to cut down on access checks and the time it takes for mandatory protocol to be followed, meaning a smoother event.  Furthermore, it can help attendees to easily identify one another, on a different level to security benefits, so it can break the ice in terms of networking. It can also let other attendees know that you have full access rights to such an event and that you may well be an authority in your field.
Personalized access items are always recommended in a trade show setting. For the tightest control and for the most efficient checks, cards, lanyards and wristbands are essential apparel.
---
Tamara Blackburn is a hands-on Digital Marketer for the UK's largest ID card company, Digital ID. Tamara has a passion for writing and specializes in creating high-quality content, mostly on topics relating to marketing, security, branding and even press releases to name a few.